'NBA 2K17' Won't Load: How to fix logo screen freeze without losing saved data on Xbox One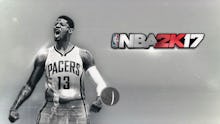 Is NBA 2K17 freezing at the logo screen? If the game is stuck and won't load past the team logos, don't worry, you've come to the right place.
We all hate glitches in video games. Anything that makes a game function in a way that the developers didn't intend is bothersome. That's especially the case for issues that hamper our enjoyment of the game. 
NBA 2K17 freezes at logo screen? You're not alone
Some Xbox One owners have been experiencing an issue with NBA 2K17 loading properly. It's being referred to online as "the logo screen freeze."
When some Xbox gamers attempt to boot up NBA 2K17, they are either stuck on the loading screen that features the NBA team logos forever or forced to wait an obscene amount of time for their game to load. That's no good.
NBA 2K17 won't load past logos? Here's the solution
Thanks to Pooky, an NBA 2K17 YouTuber, we have an easy-to-follow tutorial for fixing this issue. Other YouTubers have also addressed the issue, but we found Pooky's video to be the most straightforward.
Truth be told, we shouldn't have to worry about things like this. If anything, NBA 2K17 should have released some sort of developer notes that addressed the issue. However, when researching the problem, the only assistance found came from the community. 
Here's Pooky's video: 
NBA 2K17 Logo Screen Freezing Fix: Step-by-step instructions
If you can't watch that video, here's a detailed breakdown of everything you need to do to solve the problem.
First, quit the game by pressing the Xbox button. Once you're at the dashboard, go to "Manage Games." Then select NBA 2K17 and scroll down to "Save Data" and select it. Scroll down to "Reserved Space." Click it and then click "Clear Reserved Space." Finally, restart NBA 2K17.
At this point, it will begin to load on the title screen, but there will be a lengthy delay. Ultimately, you'll see a screen that says: "Please wait, retrieving data from 2K servers." There will be an option to cancel. DO NOT PRESS CANCEL. IT WILL DELETE ALL OF YOUR DATA.
Once that part of the process has finished, you should be ready to go and free of the logo screen freezing and extended delays.
More sports game news and updates
Are you a sports gamer? Check out more content from Mic, including Kyrie Irving's Christmas day game-winner re-created in NBA 2K17, some FIFA Ultimate Team predictions for new signees in the MLS, Madden 17 Ultimate Team NFL Playoff updates and WWE 2K17 DLC news.