'Red Dead Redemption' PS4 Release Date: How to play 'RDR' on PS4 right now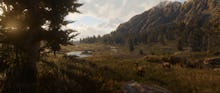 2017 is shaping up to be a great year for games set in huge, beautiful worlds. The Legend of Zelda, Assassin's Creed and Mass Effect are all set to make their glorious returns throughout the year.
But don't sleep on Red Dead Redemption 2, which currently has a release date of fall 2017. Rockstar's vision of Grand Theft Auto in the Wild West was incredible back in 2010, so the promise of a sequel on much more powerful consoles is wildly enticing. But if you can't wait until fall — or you never tried the original Red Dead Redemption — there's a way to play it on PS4 right now.
How to play Red Dead Redemption on PS4
Xbox One owners are lucky because Red Dead Redemption is backwards compatible, meaning they can insert their old copies or download it to play right now. PS4 owners can play it, too, but it's not quite as simple, as you need a subscription to PlayStation Now.
PlayStation Now is essentially Netflix for PS3 games. It's a service that allows you to stream a selection of PS3 games to your PS4 for a subscription fee. It's $9.99 for a month or $99.99 for 12 months, with a free seven-day trial available. You can instantly play a selection of more than 400 games, provided you have a stable internet connection.
Red Dead Redemption is one of those games, meaning it's unlikely we'll ever see a re-release or remaster on the PlayStation Store. It's easily playable on PS4 with PlayStation Now, but keep in mind it's streaming to your console over the internet. That means the image quality could suffer or the controls could be less responsive than you'd like if your internet connection falters.
Go ahead and sign up for the free trial of PlayStation Now to see if it works for you. If it does, have fun with Red Dead Redemption and the countless other great games the service offers.
More video game news, updates, tips and tricks
For more of the latest video game news, check out the rest of what Mic has to offer. Here's the latest info on the upcoming Nintendo Switch presentation, a workaround for a common glitch in NBA 2K17, speculation on the next Pokémon Go seasonal events and hilarious video of an Overwatch play involving the new jump pad on Oasis.