'Bright Lights: Starring Carrie Fisher and Debbie Reynolds': When and where to watch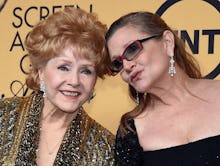 Bright Lights: Starring Carrie Fisher and Debbie Reynolds, the documentary exploring the close relationship between movie star mother-and-daughter duo Debbie Reynolds and Carrie Fisher, will air on HBO Saturday, Jan. 7 at 8 p.m. Eastern. 
The documentary, which chronicles the connection between the two women who lived in the same compound, had originally been scheduled to air in March. Its date was advanced following the actresses' deaths, which took place within one day of each other. 
Bright Lights intimately details Reynolds and Fisher's struggles with mental health, drugs, sex, and aging in Hollywood and features home movies taken by Reynolds over the years, which were provided by Fisher's brother, Todd. It was screened at the 2016 Cannes Film Festival, the New York Film Festival and the Telluride Film Festival to positive responses. 
The two women were not always close; the strain of being celebrities took a toll on their relationship and many years went by when they hardly spoke to each other. But they reconciled their differences later in life and Fisher says she is her mother's "best friend" in the documentary trailer. 
Fisher died Dec. 27, 2016, a few days after going into cardiac arrest while on an airplane. The star and activist was 60 years old. Reynolds died the next day after suffering a stroke. 
Following her breakout role in Singin' in the Rain, Reynolds went on to star in numerous films, including The Unsinkable Molly Brown, as well as star in a cabaret act. She also starred on Will & Grace and Disney's Halloweentown series. 
Fisher, who starred in the Star Wars films as Princess Leia, also worked as an activist for mental health and was an in-demand script doctor who authored several books.