When will the 2017 Oscar nominations be announced?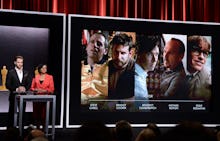 We might be in the thick of awards season, but the 89th Academy Awards don't take place until Sunday, Feb. 26, which means there's plenty of time left to dissect every bit of news and buzz relating to the race for Oscar gold. Sunday's Golden Globes serve as the next bit of Oscar-related news, but we won't know for sure who's competing at the big show until the nominations are released.
About that: When are those Oscars nominations announced, exactly?
According to the Academy of Motion Picture Arts and Sciences, nominations will be announced Jan. 24. This leaves just more than a full month between nominations and awards — giving you even more time to catch up on all the nominated films.
Point being: Awards season is just ramping up. We're in this for the long haul.