Golden Globe red carpet style retrospective: The outfits your fav stars wore in yesteryear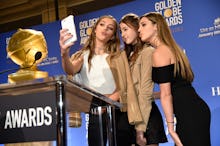 The Golden Globes are the first major award show of the year, thus offering themselves up as an official kick-off to celebrities ever-evolving fashions.
Some stars make their red carpet debut a show-stopper. Others — especially in the time before social media users could obsessively document every flyaway — made their share of faux-pas and probably wouldn't appreciate the look back. But with the 74th Annual Golden Globe Awards taking place on Sunday, Jan. 8, how can we resist a side by side comparison?
Turn your eyes to these style victories and mishaps from past Golden Globe Awards. For every stunner, there is at least one meh, ugh or ermahgerd. Let's see whose style (or stylist) has gotten better and whose have gotten worse over the years:
Gwyneth Paltrow
From 90s it-girl to Goop mogul, Gwyneth Paltrow has emerged unscathed from the decade that made her — perhaps in large part because social media didn't exist when she was coming up. Contrast Paltrow's 1998 look to what she wore at the Golden Globe Awards two years ago. Instead of being demure, she served up body-ody-ody. 
Her fitted Michael Kors dress was bright pink, the color of the season, and almost as low-cut as Jennifer Lopez's 2000 Grammy Awards Versace dress. Ciao 90s minimalism, grunge. When the trends get better, so does Paltrow's look, especially now that digital cameras and social media are here to document her ensembles. (Special shout-out to the below look from the 2000 Golden Globes.)
Jennifer Lopez
These days, J. Lo has a uniform — figure-hugging white or beige for low-key events; tropical brights for special occasions — and she slays. Even her line at Kohl's is heavy on tailored neutrals. But Lopez's fashion taste wasn't always so fine-tuned. Case in point: Lopez's outfit at the Golden Globe in 1997. In this photo, the actress poses with her then-husband Ojana Non. Lopez was nominated for a best actress award in the comedy or musical category for her role as Selena. 
Compare that look to what Lopez wore to the Golden Globes last year: a full-lengthGiambattista Valli that's as sophisticated as the woman it adorns. Lopez is officially a Hollywood powerhouse and she knows how to dress like one for constantly flashing cameras in the social media era. 
Angelina Jolie
Perhaps Angelina Jolie would've made a different fashion choice for the 2000 Golden Globes had Facebook and Twitter existed then. Her all-white ensemble did not flatter her figure and her makeup was fairly faint. 
Compare that to her 2012 look, which was polished for the array of digital cameras and cell phones there to capture it.
Angela Bassett
In 1994, Angela Bassett opted for a black dress and updo that were elegant, but not exactly showstoppers. Meanwhile, her 2016 poppy red dress glowed on camera, as did her beautiful dewy skin, which must have been primed for today's high-definition technology.
Nicole Kidman
It's hard to imagine Nicole Kidman wearing her natural, unstyled hair to the Golden Globes today, but that is what she did at the 2002 awards. Before social media, the casual look did not cause a stir, but it would almost certainly fetch mean comments in today's digital atmosphere. Kidman's 2013 hair, however, was styled down to the centimeter. 
Kate Winslet
Kate Winslet, who is naturally pale, appeared somewhat washed out at the Golden Globes in 1998. Today, even stars with porcelain complexions often have bronzer or other products applied to their skin to give it a sunkissed look. Case in point with Winslet's 2016 Golden Globe photo.
Viola Davis
In 2009, social media was just beginning to take hold of the world. So Viola Davis' Golden Globes gown that year didn't have to make the same kind of impact her 2016 look did. In silver and midnight blue, Davis was a vision at last year's Golden Globes. 
Jennifer Aniston
Jennifer Aniston's 1996 look at the Golden Globes was so simple, it appeared almost nonchalant when contrasted to her 2015 look. The latter is strategically tailored, with just the right amount of sparkle for digital cameras and cell phones alike.
Anne Hathaway
Anne Hathaway's girlish 2006 Golden Globes outfit would not fly with social media consumers who demand statement making pieces. Her 2011 gown — with its clean lines and rose gold appeal — is far more memorable in a world clogged with visual information.
Cate Blanchett
The brighter pattern that Blanchett wore to the 2003 Golden Globes seems a tad too noisy for today's social media purveyors. The solid pink gown she wore to the 2016 Golden Globes is friendly to digital cameras and social media shares.
Natalie Portman
Portman's 2005 Gold Globes look was cute and youthful with its flapper air. But with critics taking to social media in the thousands these days, a more sophisticated gown in a highly flattering magenta like she wore to the 2012 Golden Globes is, in some ways, the safer pick.
Jane Fonda
Again, circa 2004, which is when the left photo of Jane Fonda was taken, many stars opted for plainer evening gowns — such as this black slip dress — to awards shows. Today, statement pieces that glow on camera, such as what Fonda wore to the 2016 Golden Globes, are more popular choices even for established stars. 
Amy Adams
Over the past six years, Adams has gone from staid (though clearly presentable) to bold. In 2011, she wore this black, asymmetric Carolina Herrera dress to W Magazine's celebration of the best performances and the Golden Globes. While an attractive piece, the mid-calf number is the kind of standard LBD often renounced in the social media era. Adams' vibrant Atelier Versace gown from the 2016 Golden Globes, on the other hand,  is more of the statement-making piece likely to be shared on Twitter and Instagram.
Annette Bening
Annette Benning has essentially opted for the same classic floor-length black dress for years, with the look not significantly evolving for social media's watchful eyes. But some looks, while perhaps predictable, are timeless.
Scarlett Johansson
Contrast Scarlett Johansson's 2006 and 2011 Golden Globe Awards dresses and you'll note a more forgiving, less va-va voom fit. In the latter photo, her hair has been more meticulously styled, perhaps in an effort to tame fewer fly-aways. Her makeup also is bolder, which defines her features better for the camera, so that even on the small scale of say a Twitter photo, she is recognizably the one and only ScarJo. 
Julianne Moore
It is no secret many Hollywood stars have their hair dyed and highlighted. That includes Julianne Moore, who is known for her natural red hair. In 2003, Moore attended the Golden Globes donning a shade likely similar to her natural shade. However, in 2016, her hair appeared redder and more vibrant, surely a move to appear more camera-ready for social media fans.
Kerry Washington
Kerry Washington's 2005 Golden Globes makeup was subtle and her dress fairly simple. Meanwhile, her 2015 look was much more refined, with darker and more glamorous makeup, as well as a bolder dress.
Julia Roberts
The contrast between Roberts' 2001 and 2014 Golden Globes looks demonstrates how much more aware stars and stylists are of today's high-definition cameras and viral media. In 2001, Robert's makeup evidenced a light touch. Her hair, while pulled into a chic updo, is all one color. Without highlights, her hair appears flat on camera, similarly to her dress, which also lacks contrast. 
In 2014 — firmly set in the era of social media and digital photography — Roberts' look was clearly more orchestrated with current technologies in mind. Her makeup sharply defines her features and both her hair and outfit pop on camera.
Meryl Streep
While many of Meryl Streeps' Golden Globes ensembles have been variations of black and white (or off-white), even her style has been fine-tuned for digital cameras and Facebook shares. Consider her 2003 look, where her makeup was fairly faint and her outfit perhaps not perfectly tailored. Yet in 2015, she donned red lipstick, darker eyeshadow and an outfit with crisp lines which show well on camera.