'Girl Meets World' canceled after 3 seasons: When and where to watch the series finale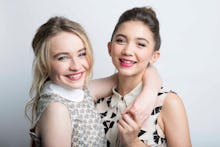 After three seasons, Disney has canceled the Boy Meets World continuation series, Girl Meets World, Entertainment Weekly reported. The announcement comes days after actor Rider Strong claimed the series had ended, a comment that was refuted by the show's writers. 
With Girl Meets World officially canceled, and season three nearing its conclusion, there are only three more opportunities to watch new episodes of the Matthews' family's antics. 
When is the series finale?
Girl Meets World set to return from its winter hiatus at 6 p.m. Eastern on Friday, when it will air the first of its last three episodes. Subsequently, the series finale, titled "Girl Meets Goodbye," will air at 6 p.m. Eastern on Friday, Jan. 20. You can also watch the episode on Disney Channel's live website with a cable subscription. 
According to Deadline, the series finale will include a large reunion of Boy Meets World cast members, as William Daniels, Will Friedle, Anthony Tyler Quinn, Strong, Lee Norris, Danny McNulty, Betsy Randle and William Russ will all appear. The two main stars of Boy Meets World, Ben Savage and Danielle Fishel, are cast members on Girl Meets World.
Deadline also reported that the Disney Channel released the following statement regarding the series' cancellation: "We are proud that for over 70 episodes, Michael Jacobs, April Kelly and the talented creative team, cast and crew entertained viewers with an authentic and heartfelt look at navigating adolescence."
You can watch a promo for latest episode, a one-hour special titled, "World Meets Girl," below:
Girl Meets World's writer's room reacts
Following the show's cancellation, the show's writers released the following statements on their joint Twitter account.