What channel is 'Nashville' on? Everything you need to know about Season 5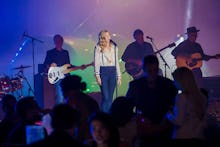 The supposed final episode of Nashville aired on May 25, 2016, shortly after ABC pulled the plug on the series as it was about to wrap its fourth season. Nevertheless, after fans rallied to get a season five of the show starring Connie Britton and Hayden Panettiere, CMT decided to revive the drama, which premieres on Jan. 5, 2017 at 9 p.m. Eastern. 
Before we head back into the world of country music, familial drama and steamy secrets, here are some things you should know about season five.
Nashville season five
The fifth season of Nashville, which returns a little over half a year after the fourth ended, picks up right where things left off — with fans learning about the fate of Juliette Barnes, whose plane was lost in the series four finale.
A synopsis of the two hour episode, courtesy of TV Guide, reads:
Rayna and Deacon adjust to Maddie's return home and deal with Highway 65's financial problems in the first half of this combined episode. In the second half, Rayna asks Deacon about making a concept album together; and Scarlett struggles to trust Gunnar.
The first half hour of the episode aired on Dec. 15, — two weeks before its scheduled date — and Marshall Herskovitz and Ed Zwick, creators of the series thirtysomething took over as showrunners after Dee Johnson left. 
Although Panettiere, Charles Esten, and Jonathan Jackson were all confirmed to return for a 22-episode fifth season, it was initially reported that Britton would only be in 10 of the episodes. Nevertheless, the actress denied this while appearing on The Ellen DeGeneres Show to promote the upcoming season. "I'm in for the duration," she told DeGeneres.
"I have seen in so many ways in my life the power that a unified voice could have, and that is one example," Britton said about how fans brought the show back to life. "The fans were just not going to have it."