The 'Billions' season 2 premiere synopsis released online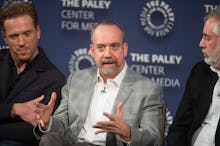 Life isn't getting any less complicated for the characters in Billions, Showtime's financial drama about a hedge fund king and an ambitious U.S. attorney, according to a synopsis of the season two premiere. 
The series, inspired by Steven Cohen, founder of SAC Capital Advisors, will begin its second season at 10 p.m. Eastern on Sunday, Feb. 19. The premiere episode, titled "Risk Management," was written by Brian Koppelman and David Levien and directed by Reed Morano. 
"In the aftermath of their season one confrontation, U.S. Attorney Chuck Rhoades and hedge fund king Bobby Axelrod are digging out of the wreckage. Chuck faces scrutiny from within his office and from the attorney general. Axe refortifies Axe Capital and weighs his options for retaliation. The fund wrestles with a precarious economic landscape that threatens the very existence of Axe Cap. Wendy entertains an offer from a rival hedge fund manager. Lara intervenes in an emergency at her children's school." 
Billions premiered on Showtime in January 2016, earning the network its best series debut performance with 2.99 million views. Averaging 6.3 million weekly viewers when all forms of viewing, including DVR and On Demand, are counted. The critically acclaimed series was renewed after only two episodes aired. 
The cast includes Damian Lewis as Bobby Axelrod, Paul Giamatti as Chuck Rhoades, Toby Leonard Moore as Bryan Connerty, Malin Akerman as Lara Axelrod and Maggie Siff as Wendy Rhoades.