Mississippi transgender woman Mesha Caldwell is first reported trans killing of 2017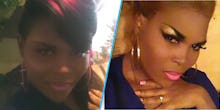 Mississippi resident Mesha Caldwell, a black transgender woman, was found dead Wednesday night outside of Canton, Mississippi, according to Mississippi News Now. Initial media reports misgendered Caldwell as male, according to a family friend. 
Mary Young, a friend of Caldwell's mother who's known her since she was a child, said she was "hurt" when she heard people using male pronouns to describe Caldwell.  
Young said Caldwell was a beautician and hairstylist. "She always, always dressed like a girl," Young said. "And as she grew up, she became beautiful just like a lady." 
She added, "I really don't know why somebody would want to kill her." 
After news reports of Caldwell's death, friends and loved ones flooded social media with messages to her and her family:
Loved ones also left personal messages on her Facebook page:
According to news reports, police are investigating the death as a homicide. The Madison County, Mississippi, coroner has not yet responded to Mic's request for comment. 
Emily Waters, senior manager of national research and policy at the New York City Anti-Violence Project, said the organization was "deeply saddened" by news of Caldwell's death and sends their thoughts and condolences to Caldwell's family. 
"This is the first homicide of a transgender person that NCAVP has responded to in 2017, during a time of heightened fear and increased violence against LGBTQ communities," Waters said in a statement. "As we continue to hear more reports of violence, we must remind ourselves that this violence is not normal and fight harder than ever to keep transgender people safe."
Young said she saw Caldwell at a dollar store recently after not having seen her for some time. Young says she lost sleep Wednesday night knowing someone had taken Caldwell's life. She remembers Caldwell as someone who was always dressed beautifully. 
"I don't care what she put on," Young said. "It looked good on her." 
This story is breaking and will be updated.