Drew Barrymore's new Netflix show 'Santa Clarita Diet' is actually about cannibalism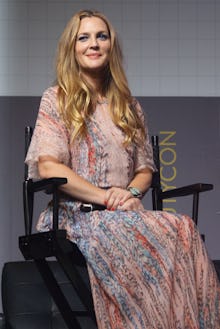 In her new Netflix show, Santa Clarita Diet, Drew Barrymore plays a cannibal.
We'll give you a second to absorb that.
Drew Barrymore, star of such beloved films as 50 First Dates, Music & Lyrics and Never Been Kissed, has a Netflix series coming out on Feb. 3. Previously, the show was officially advertised with an innocent-enough description:
[Joel and Sheila] are husband and wife realtors leading vaguely discontented lives in the L.A. suburb of Santa Clarita with their teenaged daughter [Abby], until Sheila goes through a dramatic change sending their lives down a road of death and destruction ... but in a good way.
Simple enough, right? Odd that they weren't revealing the change, but it could've been anything.
It wasn't just anything. It was cannibalism.
Per TV Line, Barrymore's character (Sheila, a cannibal) dies and comes back to life in the show's first episode. Post-mortem, she begins to crave the taste of human flesh — a bit troublesome for a suburban realtor. She and her husband Joel must work to keep her secret under wraps.
"If you ate nothing but protein every day, you'd really thin out!" Barrymore joked when talking to USA Today about her character, who is, we remind you, a cannibal.
Santa Clarita Diet hits Netflix Feb. 3. (We will be watching every episode.)