Arkansas judge resigns after accusations he traded lighter sentences for sexual favors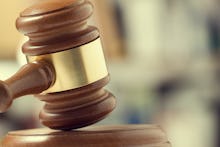 In a striking instance of déjà vu sleaziness, an Arkansas judge has been accused of swapping sexual favors for get-out-of-jail-free cards. 
Carroll County District Court Judge Timothy Parker allegedly reduced bail for women who agreed to such favors, or ordered their release without bail. According to the Daily Beast, Parker allegedly also induced women to perform sex acts with cash payments and prescription pills, sometimes orchestrating the exchanges by using their family and friends as conduits.
Parker told the Associated Press that the allegations are "crap" to which he did not want his children exposed. He opted to resign Saturday, on the last day of his term, rather than face formal administrative misconduct charges from the Judicial Discipline and Disability Commission. In stepping down, Parker has precluded any future possibility of working as a judge in Arkansas.
The evidence against Parker, who assumed his position in 2013, looks strong: According to the AP, the JDDC panel investigating the judge compiled text messages, audio recordings and video testimony from over 12 women, all of which it says documents the judge's bartering habits. 
Parker reportedly acknowledged having cut bail and sentencing deals for friends and former clients (according to the New York Times, Parker was a "part-time judge" operating a private legal practice on the side). According to the AP, the panel said he admitted to picking up some of them from the county jail in his own car, but Parker flat-out denied the allegations of exchanging these services for sex acts.
While Parker staved off judicial charges with his resignation, he has not necessarily escaped criminal charges: According to the AP, special prosecutor Jason Barrett is currently investigating the informaton compiled by the JDDC. 
If Parker's story sounds familiar, it might be because his is the second such case to come out of Arkansas in the past year: In May, District Court Judge O. Joseph Boeckmann Jr. resigned after the JDDC accused him of leveraging his authority to coerce male defendants into compromising sexual positions as a means of meeting their community service sentencing requirements. 
Boeckmann allegedly made the men bend over for him, spanked them and had them perform sex acts. He allegedly photographed the men, which made his adamant assertion of innocence hard to believe.