What will happen in 'The Blacklist' midseason premiere? Synopsis, promo and more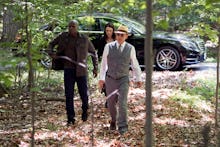 NBC's The Blacklist will return from its midseason hiatus tonight, Jan. 5, at 10 p.m. Eastern. It has been nearly two months since the fall finale, in which James Spader's Raymond Reddington and Megan Boone's Elizabeth Keen finally dealt with their Alexander Kirk problem. 
We're still not entirely sure what happened with Kirk, just that he refrained from killing Reddington after the latter whispered something mysterious in his ear. It does appear, though, Kirk will be out of the picture for at least the foreseeable future. Executive producer Jon Bokenkamp told Entertainment Weekly shortly after the midseason finale, "I think it's pretty certain this is the last we've seen of Kirk."
With Kirk no longer an issue,  Reddington, Keen and the Task Force will be going up against new challenges. So, what will happen next on The Blacklist? And will a mole be revealed? 
Midseason premiere synopsis and promo
The Blacklist's midseason premiere, which is the ninth episode of the fourth season, is titled "Lipet's Seafood Company." The official synopsis from NBC reads as follows: 
"An investigation into an international terrorist operating on American soil tests the allegiances of the Task Force. As Aram (Amir Arison) faces the consequences of his girlfriend hacking into the FBI computer systems, Red (James Spader) cashes in on a favor." 
You can watch the promo for "Lipet's Seafood Company" below: 
Is Reddington Liz's father?
There has been one question that has loomed largest since The Blacklist first premiered: What is Reddington's relation to Elizabeth? The answer to that question has been teased, revealed, taken back and teased again many times over. As things currently stand, we know that Alexander Kirk was married to Liz's mother, but as revealed in the midseason finale, he is not Liz's biological father.
We also know that Reddington had an affair with Liz's mother, so it certainly is possible that he is her biological father. Of course, he also told Alexander Kirk in a drug-induced confession that he is Elizabeth's father. So is it confirmed? Nope. He has told Elizabeth on at least one occasion that he is not her father. Confused? You're not alone. 
Following the midseason finale, Entertainment Weekly asked Bokenkamp if we will find out whether Reddington is Liz's father. The response? "I think it's best to let the show and its characters answer that. Anything that's meaningful is in the scripts and on the screen. Everything else is noise."
Regarding whether we should trust Reddington's own words that he is Liz's father, Bokenkamp noted, "Well, he did say he was her father and he sounded like he meant it. That said, he was also heavily drugged with god knows what. I'll let you decide." 
But we don't know! It looks like we are just going to have to keep on watching if we ever want to figure out Reddington's true relation to Liz. 
The Blacklist airs Thursdays at 10 p.m. Eastern on NBC.