The xx tour 2017: Concert dates, locations, and ticket information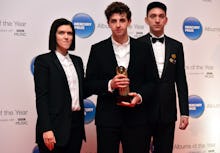 After teasing a North American tour by mailing free tickets out to their fans, The xx — on the heels of their third studio album I See You — have officially announced the dates for the tour. Their first show will be in San Francisco on Apr. 15, the day after the trio performs at Coachella. 
The xx — made up of Romy Madley Croft, Oliver Sim and Jamie Smith — have already dropped two singles from the album, "On Hold," and "Say Something Loving," ahead of the album's Jan. 13 release date. They announced the tour on their Instagram.
I See You marks The xx's first record since Coexist, which was released in 2012. Meanwhile, Jamie Smith — who goes by the moniker Jamie xx — dropped a solo album, In Colour, in 2015. Although Madley Croft and Sim didn't release any solo stuff in the interim, both were featured on the record.
I See You North American tour tickets
Tickets for their North American tour won't be available to buy until Friday, Jan. 13 at 1:00 p.m. Eastern — unless you're a fan, in which case pre-sale tickets will be up for purchase on Tuesday, Jan. 10 at noon. However, those attending Coachella on April 14, will be able to see the band inaugurate the tour. 
I See You tour dates
The xx listed their tour dates with locations on their website. You can see them below.
Feb. 8: Stockholm, Sweden — Hovet