'Overwatch' Roadhog Nerf Hook 2.0: An ode to the ultra-broken weapon before the update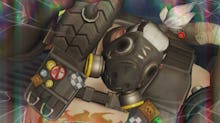 The Roadhog nerf and "hook 2.0" is almost here, but let's take a look back at the broken Overwatch weapon before it's updated.
If you've played Overwatch for a reasonable amount of time, you've almost certainly experienced the utter bullshit that is Roadhog's hook. It has a nasty habit of going around corners, over the payload and through wormholes in space and time, yanking players into the path of his scrap gun from other dimensions.
Well, following the news Blizzard is putting this infamous ability — at least, in its current form — out to pasture, consider this an "in memoriam" post for Roadhog's ill-fated hook. For the maximum effect, play the following video in the background to honor our brethren who have fallen prey to this physics-defying horror.
"I can't wait for hook 2.0 because he didn't see me but killed me ..." posted by imironicallyracist
"Hook is fine," posted by crazy_cali
"Want proof Roadhog's hook is broken?" posted by GG_SharK
"The worst hook I've witnessed," posted by mbj16
"Those 'questionable' Roadhog hooks don't usually trigger me, but this one ..." posted by TheOneWhoKnocks16
"I officially hold the record for worst Roadhog hook on Reddit," posted by RRT444
"I knew Roadhog's hook was ridiculous, but this?!" posted by NT_Chris
"Hook to end all hooks," posted by UltraPowered
GOOD. RIDDANCE.
More Overwatch news, updates, tips and tricks
For more on Overwatch, check out the rest of what Mic has to offer. Here is the latest rumor of a Terry Crews-voiced Overwatch character, an update on that Mei ice wall exploit, hilarious video of a play of the game involving the jump pad on Oasis, a roundup of the best Overwatch plays of the week, our definitive ranking of every Overwatch hero and a giant Overwatch FAQ for beginners,