Why Ellen DeGeneres canceled Kim Burrell's scheduled appearance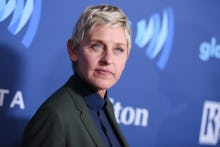 Following the backlash regarding Kim Burrell's controversial statements abut homosexuality, Ellen DeGeneres explained why she canceled the gospel singer and pastor's appearance on her show. 
Burrell had been scheduled to perform "I See Victory" from the Hidden Figures soundtrack with Pharrell Williams, but on Thursday, Williams appeared on the show by himself and discussed Burrell's words with DeGeneres. 
"She made a statement," DeGeneres said of Burrell. "She was doing a Facebook live, and she said some not very nice things about homosexuals, so I didn't feel like that was good of me to have her on the show, to give her a platform after she was saying things about me."
Williams, who wrote music for Hidden Figures and is a producer of the film, elaborated further with DeGeneres. 
"There's no room for any kind of prejudice in 2017 ... Whenever you hear some sort of hate speech and you feel like it doesn't necessarily pertain to you because you may not have anything to do with that, all you got to do is put the word 'black' in that sentence, or put 'gay' in that sentence, or put 'transgender' in that sentence, or put 'white' in that sentence and all of a sudden it starts to make sense to you. I'm telling you, the world is a beautiful place but it does not work without empathy and inclusion. God is love. This
Burrell, a well-known gospel singer, was recorded leading a sermon at the Love and Liberty Fellowship Church International in Houston, Texas, where she is a pastor. 
In the video, Burrell says, "I came to tell you about sin. That perverted homosexual spirit, and the spirit of delusion and confusion, it has deceived many men and women."
After the video circulated the internet, DeGeneres announced Burrell's appearance had been canceled. 
Additionally, Williams shared a statement on social media about hate speech which was seemingly in response to Burrell's sermon but did not mention her by name. 
DeGeneres came out publicly on Ellen in April 1997, establishing the show as the first prime-time sitcom to feature a leading character who is gay. Prior to the episode, DeGeneres was featured on the cover of Time magazine with the headline, "Yep, I'm gay" and was interviewed by Oprah, who played her therapist on Ellen. 
The coming-out episode, titled "The Puppy Episode," became a controversial media event with a great deal of publicity surrounding it. ABC ran "viewer discretion" cards before each of the two parts of the episode, which drew an estimated 42 million viewers. Some companies withdrew their advertising for the episode. The show was canceled the following year.
DeGeneres has continued working in the media, and in 2016, she was honored with the Presidential Medal of Freedom.