New analysis suggests Wall Street might own Donald Trump — literally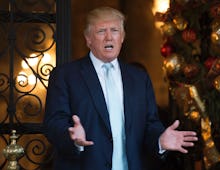 President-elect Donald Trump has said in the past that he owes money to 10 companies, but according to a new analysis, that number may be closer to 150, including several big banks.
If the analysis is correct, it could add fuel to accusations that Trump's ties to Wall Street are too tangled and would reflect poorly on his proposed appointments of banking insiders to high-profile administration posts.
The analysis — produced by the Wall Street Journal in collaboration with the firm Morningstar — brings to light numerous potential conflicts of interest, and may shed light on why Trump hasn't seemed as tough on Wall Street since getting elected as some of his campaign rhetoric suggested he would be. 
According to Trump's previous disclosures, he owed $315 million to 10 companies, and at one point, that may have been technically true. 
But the world of debt is complicated, and companies often slice-up, repackage and then resell the debt to mitigate the risk for bondholders.
This is a process called "securitization."
Securitization is why Trump now doesn't owe money to just 10 companies — and the number has ballooned, according to the Journal.
A spokeswoman for the presidential transition team didn't immediately respond to request for comment about the findings. 
The report means that banks including JPMorgan, Wells Fargo and Fidelity all own some of Trump's debt, and, the Journal reported, therefore they are in a position to wield enormous influence over him. 
"With the new SEC chair, we're getting a lot of this Wall Street goes to Washington business," Richard Painter, ethics counsel for President George W. Bush, said by phone. "How do we expect the president to regulate the banks when he's deeply in debt to them? When the bank has the ability to give him credit or not give him credit ... the banks have him at their mercy and he's appointing all their regulators."
If the Trump Organization were to default on any of the debts for instance, the banks could threaten to pull Trump's properties into foreclosure — or sue for the tens of millions of dollars in loans that he has personally guaranteed, according to the new report.
"This is a very challenging situation that has a real impact on financial services regulation, which is what caused the last economic collapse: lack of financial services regulation," Painter said.
Trump previously said he would announce plans in December 2016 to leave his businesses — before postponing the announcement. 
That press conference has now been rescheduled to Jan. 11, and while transition spokeswoman Hope Hicks confirmed to Mic that conflicts of interest will likely be discussed, she also reiterated "it's not specific to that one topic."
Because not all the companies holding Trump's debt are public — and therefore required to make disclosures — citizens can't know the full extent of the president-elect's Wall Street debts without seeing his tax returns.