'Red Dead Redemption 2' Release Date Rumors: Multiplayer, 'Mafia III' connection and more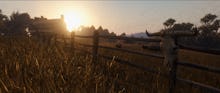 There's a lot to get excited about in the upcoming year of video games. New Zelda, new Nintendo console, the resurrection of Rime and even more GTA Online content are on their way. If we get lucky, we could even get a new Kingdom Hearts and Terry Crews in Overwatch!
Perhaps the most exciting upcoming game of all, though, is Red Dead Redemption 2. The sequel to Rockstar's 2010 Western classic has been heavily anticipated for a long time, and its reveal made shockwaves late last year. There still isn't much info about the late 2017 release, but here is everything we know so far.
Red Dead Redemption 2 Release Date Rumors: Prequel with a connection to Mafia III?
2016's Mafia III was a pulpy revenge tale told in the form of an open-world action game, not unlike Grand Theft Auto. It took place in 1968 in a city called New Bordeaux, basically a fictionalized version of New Orleans. It was also published by 2K Games, which exists under the same broad corporate umbrella as Rockstar Games, makers of Red Dead Redemption.
Back in April, an alleged in-game map from Red Dead Redemption 2 leaked, according to IGN. If the map is legit, the game would take place just to the east of the first game's faux-Texas setting of New Austin. A major point of interest on the map is New Bordeaux, the same city from Mafia III.
The map also points to a more swamp or marsh-like environment, which makes sense, of course. Louisiana is just to the east of Texas in real life, so perhaps we'll be exploring fake Louisiana in Red Dead Redemption 2.
The source of the leaked map also called the game a prequel, which is just about the only way to go. Red Dead Redemption was set in 1912 in the twilight of the Wild West. So setting a western game after that wouldn't make much sense.
Red Dead Redemption 2 Release Date Rumors: An emphasis on multiplayer
The closest thing we have to official information on the gameplay comes from the game's official website. Namely, it calls the game a foundation for a "brand-new online multiplayer experience." 
Based on the success and popularity of GTA Online, this isn't surprising. If Red Dead Redemption has the same level of depth and variety with improvements, it could be amazing. Hopefully, that doesn't come at the expense of the single-player portion of the game.
Red Dead Redemption 2 Release Date Rumors: Exclusive PS4 content
Another small nugget of information came from the PlayStation Blog. PS4 players will get first access to "select online content" before Xbox One owners. Again, there is no specific information about what the content will be, but maybe PS4 players will get first access to special weapons, costumes or missions. 
To see Red Dead Redemption 2 in action, check out the trailer below.