'Sherlock' Season 4, Episode 2: What we know about Toby Jones' villain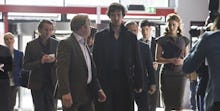 Sherlock returned for its highly anticipated fourth season with "The Six Thatchers," an episode that will certainly have long-lasting ramifications for boys of Baker Street. The next episode, titled "The Lying Detective" is set to introduce a villain, played by Toby Jones, that series co-creator Steven Moffat has described as the "purest evil." And that says a lot considering the series' previous villains, James Moriarty and Charles Augustus Magnussen. 
Specifically, while discussing the show at a Collider round table over the summer, Moffat had this to say about Jones' character: "This guy is the purest evil. Sherlock is actually appalled by him. He's the most evil villain we've had. I don't think that when you see it, you will disagree. He's horrific."
With Sherlock and Watson's relationship likely to remain somewhat fractured following the shocking (if you are not familiar with Arthur Conan Doyle's stories) twist towards the latter moments of "The Six Thatchers," the threat posed by Toby Jones' villain could be even greater. 
What do we know about Culverton Smith?
In "The Lying Detective," Toby Jones will be playing Culverton Smith. Previous comments from the series' stars and creators have continuously highlighted Smith as a dangerous menace. 
Several months ago, as reported by Female First, Moffat said the following of Smith: "He's very unnerving. I hope Toby won't mind me saying, but he's a little man, yet he's weirdly a physical threat."
Benedict Cumberbatch, who plays Sherlock Holmes, described the current season to Collider as "myopically dark." He continues, "You're talking about the end of the universe darkness. You can't see in front of you and would walk into everything dark." From what we have heard about Culverton Smith, it appears he may contribute to much of that darkness. 
(Editor's Note: Possible spoilers for "The Lying Detective" ahead.)
Arthur Conan Doyle's Culverton Smith
Culverton Smith is not an original character created for Sherlock, but rather comes from the mind of Arthur Conan Doyle. While the series may decide to feature the villain as entirely different from his literary roots, Smith was the main antagonist in Doyle's "The Adventure of the Dying Detective." 
Briefly, "The Adventure of the Dying Detective" sees Sherlock Holmes on his death bed, infected with a disease sent by Smith. Smith had earlier murdered his nephew using the same disease, which he delivered via a sharp spring in an ivory box. 
The dying Sherlock Holmes ends up inviting Smith to Baker Street, and the latter confesses to his crimes, no doubt assuming the detective would never live to tell. As it turns out, the brilliant Holmes was never infected with the disease, but was playing an elaborate trick to catch Smith. 
So what does this mean for "The Lying Detective"? 
It should be quite clear that "The Lying Detective" is at least in part playing homage to "The Adventure of the Dying Detective." This, of course, does not mean the stories will be similar in any way. We could, though, see Sherlock at some point deceiving Smith in a manner similar to Doyle's story. 
We will see for sure on Sunday, Jan. 8 at 9 p.m. Eastern, when the second episode of Sherlock's fourth season airs on PBS. Check out the trailer for the upcoming episode below: