Adidas' upcoming Ultra Boost LGBTQ sneakers aren't the big statement they could be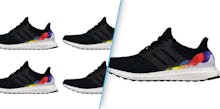 News broke earlier this week via the sneakerhead blogosphere that sportswear giant Adidas will release a special LGBTQ-pride themed edition of its Ultra Boost sneaker this May in preparation for Pride Month. The shoe will feature a subtle rainbow on the heel with a mostly black body, according to Sneaker News, which published images of the forthcoming kicks. 
It's not the brand's first LGBTQ-specific merch. Last year, Adidas backed up its Pride Pack collection by contributing some of the proceeds to Rainbow Laces, a campaign promoting LGBTQ acceptance in athletics. So far there's been no word from the company as to whether or not it will make a similar contribution for this product line.
From the scant info that's been released so far, the pride-themed Ultra Boosts seem a lot like other brands' attempts to celebrate the LGBTQ community by slapping a rainbow on their products and calling it advocacy. Not to mention, Adidas' latest design falls short of a clear meaning upon plain sight.
For starters, the rainbow detail, at least on the images circulating on sneaker blogs, is so subdued as to be nearly unrecognizable. These aren't rainbow sneakers — they're black sneakers with hints of color. And the rainbow colors aren't even in the right order (ROYGBIV, remember?). It seems a lot like someone could buy and wear these sneaks without even noticing their intended message.
There are plenty of other places that have infused products with rainbows then reaped the praise from LGBTQ media — which was the case with Converse's Pride Collection, as Mic previously reported — a line of rainbow sneakers that didn't directly benefit LGBTQ communities in any way except to put more colorful sneakers out into the world.
There's also the issue of the rainbow — while the rainbow flag is a widely recognized symbol of the LGBTQ rights movement, the colors of the rainbow on their own don't necessarily convey meaning. Adidas might be better served by putting real messages on their products, like Levi's 2016 Pride Collection, which featured attributed quotes from gay rights pioneer Harvey Milk, or American Apparel's "Make America Gay Again" line.
The bottom line is that the rainbow feels hollow unless it's put into context and backed up with action.
The good news is that Adidas has a good track record as far as companies that stand up for LGBTQ rights. In addition to partnering with an LGBTQ rights group for last year's Pride campaign, it has also featured same-sex couples in promotional materials (and stood up to homophobic trolls in defense of it) and has vowed to support endorsed athletes if they come out. It has also been named one of the Human Rights Campaign's best places to work for LGBTQ people.
All of this confirms that if Adidas' only plan for its 2017 Pride gear is to add a hint of rainbow to a pair of black kicks, we know it's capable of doing way better.
Adidas has not yet returned a request for comment.