2017 Obamacare Florida: costs, eligibility, deadlines, and more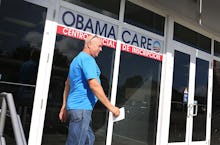 Florida led all other states in signups for health care under the Affordable Care Act through December, according to the Miami Herald. Nearly 300,000 Floridians signed up between Dec. 18 and and Dec. 31, and fortunately, there's still time for you to sign up if you haven't. 
Here's everything you need to know about getting ACA in 2017 in the state of Florida. 
Deadlines 
Healthcare.gov states that the last day to "enroll in or change" a healthcare plan for 2017 is Jan. 31. That means you still have a few weeks to use the website or call its hotline in order to find out more about available plans and pricing. 
Those who enrolled in a new plan by Dec. 15 and paid their first month's premium by Jan. 1 will have coverage for the month of January.
Eligibility 
In October, CNBC reported that around 2.5 million people were missing out on the money they could be saving with ACA by going through private insurance companies instead of through government-run marketplaces. 
How do you know if you're eligible for ACA? According to Healthcare.gov, in order to be eligible to enroll in coverage found in the Marketplace, you must:
- Live in the United States
- Be a U.S. citizen, national, or "lawfully present" 
- Not currently be incarcerated 
But wait — there's more. HealthInsurance.org states that individuals who are eligible for a subsidy through the Healthcare Marketplace are those whose employers do not provide "affordable comprehensive insurance." In other words, if you can afford to pay for the insurance your employer provides — only taking yourself and not any dependents into account — you will not be eligible for a discounted insurance program through the Marketplace. 
NPR provides a calculator developed by the Kaiser Family Foundation that can help you determine whether or you are eligible for ACA based on your income, number of dependents and other factors. You can also call the Healthcare Marketplace at 1-800-318-2596 or to visit its website.  
Pricing 
These quick questions on the Marketplace website will help you get an idea of pricing for 2017 coverage. Remember that every individual will have different circumstances and a different income and will, therefore, be offered different costs for different plans. If you enrolled in one plan last year at a certain price but your income has gone up, your premium costs may go up as well. 
The calculator can also help you determine the general price range you should expect when enrolling in an insurance program through the Healthcare Marketplace. Costs for premiums have risen from last year in most states and by about 14% in the state of Florida specifically, as reported by the Fiscal Times. 
Finding help 
Working through health insurance options is bound to make anyone's head hurt. So where can you find someone who can help you understand and apply for ACA? 
The Healthcare Marketplace website is available round-the-clock seven days a week, as its their call center. If you don't mind waiting on hold, this can be a helpful resource when you're unsure of whether or not a particular program will cover your medications, if your doctor is in network or if you want to ask other questions. There is also a way to meet someone in person who lives in your community in order to find out more about your options.