Like the Caribbean? How about free money? The Virgin Islands might be your dream destination.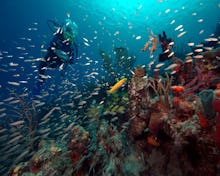 Going on vacation and getting paid: two things everyone loves.
And if you holiday in the U.S. Virgin Islands in 2017, they'll pay you $300 in credit to be there. Yes, you read that correctly. 
The offer stands for those who book trips to St. Thomas, St. John or St. Croix through the Virgin Islands' tourism website — and you have to book by October. You also have to stay at one of 27 participating hotels. 
The $300 is for "spending credits for historical/cultural tours and activities," according to the tourism website, and is part of a promotion to celebrate the centennial of the islands becoming American territory. 
Formerly the Danish West Indies, Denmark transferred control of the islands to the U.S. on March 31, 1917 — this year, therefore, marks a century of American authority. March 31 has become known locally as "Transfer Day." 
Subsequently, those who travel to the islands in March will also get a mysterious "commemorative 'centennial' souvenir" along with their $300 credit.
Denmark sold the islands to the U.S. for $25 million, which bolstered the U.S. military's influence in the Caribbean, allowing the U.S. to preserve a naval presence in regards to the Panama Canal — a U.S.-led economic initiative at the turn of the last century to connect the Atlantic and Pacific Oceans. 
Sign up for The Payoff — your weekly crash course on how to live your best financial life.