Virginia trans woman India Monroe shot to death in December, misgendered in early reports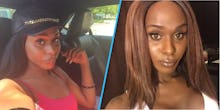 A transgender Virginia resident known to friends as India Monroe was killed on Dec. 21 in Newport News, Virginia, though she was misgendered and identified by her birth name in news reports. 
Initial reports said Monroe, 29, was with 37-year-old Mark Gray and they were both found shot, though there was no sign of forced entry into the home. The Tidewater district medical examiner said the cause of Monroe's death was multiple gunshot wounds and they ruled the death a homicide. The Newport News police department said they're currently investigating Monroe's death as a domestic incident, not a hate crime. 
Magen Shannel was friends with Monroe and attended Monroe's funeral on Jan. 3. She said that Monroe was buried under her birth name and made to look male. Her hair had been cut, and she wore a suit. Brittany Marquis, who attended high school with Monroe and knew her before her transition, saw a picture from the funeral and said gloves were placed over Monroe's hands, as well.
"I know for a fact Monroe would not want to be buried that way," Marquis said. "She'd want to have her nails done, hair done, looking amazing, because that's what she liked." 
William Bailey, 35, told Mic Monroe identified as a woman since at least 2009, though he wasn't sure when she first began to transition. Marquis said Monroe was very petite and short — about 5 feet, 2 inches. Nearly two years ago, they did their hair and nails together before Monroe went on a date. Marquis said she did not know whether Monroe was open about being transgender with her entire family. 
Loved ones shared farewell messages to Monroe on Facebook: 
According to Stacie Vecchietti, the director of the Virginia Anti-Violence Project, Monroe is the third woman of color killed in Virginia in the past 10 weeks. Two of these women were transgender women of color. Noony Norwood was shot and killed on Nov. 5 in Richmond, Virginia. 
"We're working hard in the community to support folks while also continuing to work to prevent this violence from happening in the first place," Vecchietti said. "Part of that work, in a larger context, is actively working against anti-trans legislation, such as the Physical Privacy Act that was introduced [Jan. 3] in the Virginia general assembly. Legislation like this reinforces the hate and fear that breeds violence against queer and transgender people in Virginia." 
Mic reported on Wednesday that Virginia lawmakers prefiled a bill which would not only make public restrooms and changing facilities single-sex, but would also require schools to out trans students to their parents.