'Zelda' Wii U and Nintendo Switch Game Release Date: US, Japan and Europe launch info leak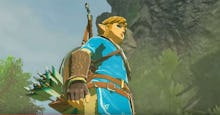 The Legend of Zelda: Breath of the Wild release date is confidential information, but that hasn't stopped the rumor mill from doing what it does best. Some have speculated that the new Zelda game will be a Nintendo Switch launch title, though few can say for sure. 
The latest report comes from Eurogamer, which claims that Breath of the Wild could be available in the United States and Japan long before it reaches Europe.
Legend of Zelda: Breath of the Wild release date pushed back in Europe?
According to Eurogamer, Legend of Zelda: Breath of the Wild will launch in North America and Japan alongside the Nintendo Switch, but it could be delayed in Europe. The publication calls on multiple sources from within Nintendo who say the game is delayed due to localization requirements for various European audiences.
In the case of Breath of the Wild, Nintendo could potentially release the English version to Europe and patch in other languages later. With the right disclaimers in place, fans can play the game early without being surprised that their language didn't quite make it in yet.
Zelda: Breath of the Wild release date: When to expect more info
Nintendo is keeping Breath of the Wild release details close to the chest, but we'll likely find out more during the upcoming Nintendo Treehouse. The video event will follow the official Nintendo Switch livestream happening on Jan. 12 at 11 p.m. Eastern. That's where we should get a closer look at the game and any new launch info.
Check out more Zelda and Nintendo news
Hungry for more Legend of Zelda details? Check out this earlier trailer for Zelda BOTW and then read up on why the game's release date may not arrive until long after the Nintendo Switch has already launched. Or check out how Ocarina of Time would look in Unreal Engine 4-level HD if you're feeling nostalgic.
If you'd rather read about other Nintendo games, check out our coverage of Pokemon Go Gen 2 and Nintendo Switch specs, or indulge in your nostalgia with Game Boy games and Mario Kart.