4 things to know about the Menendez brothers ahead of ABC's 'Truth and Lies' documentary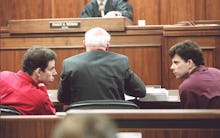 The past couple of years has seen American audiences fascinated with narratives exploring our country's infamous killers and true-crime stories, including The Jinx, Making a Murderer and the Emmy-winning The People v. O.J. Simpson: American Crime Story.  
Now ABC is airing a two-hour documentary special titled Truth and Lies: The Menendez Brothers — American Sons, American Murderers, which looks into the notorious case about two brothers convicted of murdering their parents. Before the special airs on ABC at 9 p.m. Eastern on Thursday, Jan. 5, here are a few things you should know about the case against Lyle and Erik Menendez. 
The timeline
On Aug. 20, 1989, husband and wife Jose Menendez and Mary Louise "Kitty" Menendez were shot and killed in their Beverly Hills mansion. Later that evening, their sons Erik Menendez, 18, and Lyle Menendez, 21, called the police and claimed they arrived home after a night out to find their parents dead. The brothers escaped suspicion until March 1990 — they had, until then, blamed the mob for the murders — when it was revealed Erik Menendez had confessed his crime to a therapist. 
The brothers were held in Los Angeles County Jail for two years before the case went to trial in July 1993. Erik Menendez and Lyle Menendez had separate juries, both of which were deadlocked upon the conclusion of court proceedings in January 1994. The retrial began in August 1995, after which the single jury returned a guilty verdict and the judge sentenced the brothers to two consecutive life sentences without parole. 
The motive
During the retrial, the defense contended Jose Menendez had molested Erik Menendez for a period of 12 years, from age 6 to 18. The brothers claimed that in the days leading up to the murders, their father threatened them in an effort to prevent Lyle Menendez from revealing this family secret. 
"I was sure mom and dad were going to do something, it was just a matter of when and how," Erik Menendez said. 
In 1993, Lyle Menendez testified that both of his parents had sexually abused him. He told the court his mother would invite him to bed with her and that he touched her "everywhere." 
Prosecutors alleged the brothers killed their parents out of hatred and to inherit an estate worth up to $14 million.
Life in prison 
In the ABC documentary special, Lyle Menendez gives an interview in which he talks about spending 26 years in prison and his current feelings about the case. 
"It's shocking to think ... that I could have been involved in taking anyone's life — and my parents' life," he says in the trailer. "It seems unimaginable because it seems so far removed from who I am."
Both brothers have married while in prison. In Snapped, a documentary special about the brothers that aired on Oxygen in October 2016, it was revealed Lyle Menendez married longtime pen pal Anna Eriksson in 1996. They divorced when Eriksson discovered Lyle Menendez had been sending letters to another woman. He subsequently married magazine editor Rebecca Sneed in 2003. Meanwhile, Erik Menendez married Tammi Saccoman, a widow, in 1999. 
Erik's screenplay
While investigating the murders, the Beverly Hills Police Department learned of a screenplay Erik Menendez had written that eerily alluded to their future crime. 
Cowritten with Erik Menendez's friend Craig Cignarelli, the screenplay — titled "Friends" — begins with the primary character killing his affluent parents. 
"I remember talking about the opening scene, in just the idea of, 'We need to establish a crime. We need to have the protagonist gain an inheritance so he can actually fulfill his dream of creating this hunting ground for humans,'" Cignarelli told ABC News.
While the screenplay itself wasn't allowed as evidence in the trial, Cignarelli testified that Erik Menendez confessed the killings to him Sept. 1, 1989.