'I Am Not Your Negro': 4 things to know about the new James Baldwin documentary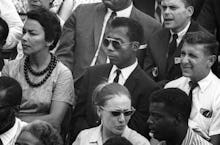 The late author James Baldwin was never one to hold back on the truth. In fact, he based his life's work on breaking down the issues of race relations in America during the height of the civil rights movement. 
I Am Not Your Negro, a new documentary directed by Haitian filmmaker Raoul Peck, takes Baldwin's words and brings them to life on the silver screen. The trailer features various images and clips of Baldwin speaking his truth to power.
"The question you got to ask yourself ... the white population of this country's got to ask itself is, 'why it was necessary to have a nigger in the first place?'" Baldwin's voice asks during the trailer. "Because I'm not a nigger. I am a man. But if you think I'm a nigger, it means you need it and you got to find out why. And the future of the country depends on that." 
I Am Not Your Negro arrives in select theaters Friday, Feb. 3. Before you check it out, here are four things to know about the film.
It's based on an unfinished manuscript
Before Baldwin's death in 1987, he was writing a book called Remember This House. At the time of his death, he had written just 30 pages of the manuscript. After obtaining the rights to Baldwin's body of work, Peck envisioned the book Baldwin never finished and brought it to completion in I Am Not Your Negro, using the writer's own words to tell the story. 
Peck further explained the usage of Baldwin's work in a recent interview with the American Film Institute:
"I wanted to have Baldwin center stage, without any talking heads interpreting or second-guessing him. It seems politically urgent to put Baldwin's word 'in the streets,' as he would have personally done, and make sure that these words were uncensored, unapologetic, direct and raw. He was to be the message; I just wanted to be the messenger."
Medgar, Martin and Malcolm 
In Remember This House, Baldwin wanted to draw parallels between the lives of Medgar Evers, Martin Luther King, Jr. and Malcolm X, three African-American activists who had all been assassinated. While examining contemporary black activism such as #BlackLivesMatter, I Am Not Your Negro also covers how Baldwin saw these men's deaths. 
"These three men were black, but it is not the color of their skin that connected them," Peck wrote in a statement on the film. "They fought on quite different battlefields. And quite differently. But in the end, all three were deemed dangerous. They were unveiling the haze of racial confusion. James Baldwin also saw through the system. And he loved these men. These assassinations broke him down."
Samuel L. Jackson narrates 
The 95-minute documentary is narrated by actor Samuel L. Jackson. According to Peck, Jackson was at the top of his personal list and signed on within a few days of watching the film's edit.
Oscar buzz
I Am Not Your Negro was one of 15 films included on the shortlist for the best feature documentary Oscar. Final nominations will be announced Jan. 24. 
The film was also deemed best documentary by the Los Angeles Film Critics Association, took home the people's choice award from the Toronto International Film Festival and won a creative recognition award from the International Documentary Association, to name a few.