Donald Trump's National Security communications director plagiarized 2012 book: report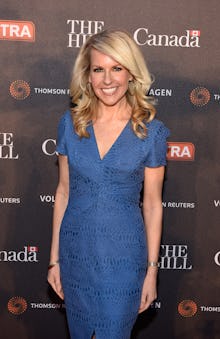 Donald Trump's campaign is once again fielding plagiarism accusations after a report found a striking number of stolen sentences in a book by Monica Crowley, a conservative commentator, columnist and the president-elect's senior director of communications for the National Security Council. 
According to CNN Money, her best-selling 2012 book, What the (Bleep) Just Happened, contains upwards of 50 instances of copied material, compiled by the outlet into a side-by-side catalog of thievery. The list of sources from which Crowley allegedly lifted is colorful and includes Investopedia, the BBC, the Wall Street Journal, a Blogspot blog, Dick Cheney, a podiatrist, Fox News — incidentally, an employer of Crowley's — and Wikipedia. The book, according to CNN, lacks both end notes and a bibliography. 
CNN's visual comparison makes the allegations hard to dismiss, but that's reportedly what the Trump transition team did. 
"Any attempt to discredit Monica is nothing more than a politically motivated attack that seeks to distract from the real issues facing this country," read a statement from the transition team to CNN. It also noted that Crowley's "exceptional insight and thoughtful work" on reforming the country is what won her the National Security Council role in the first place. 
Neither Crowley nor her publisher, HarperCollins, would comment to CNN, but it's not the first time Crowley has been accused of plagiarism. In 1999, Crowley wrote an article on Richard Nixon for the Wall Street Journal. Using a similarly illuminating side-by-side, Slate accused her of borrowing heavily, without so much as a hat tip, from a piece that ran in Commentary magazine the previous year. 
The close resemblance prompted the Wall Street Journal to amend Crowley's piece with an editor's note reading, "Had we known of the parallels, we would not have published the article." Yet Crowley claimed innocence, according to Slate, saying she'd never even read the Commentary piece. 
This is not the first time the Trump campaign has been obligated to explain a plagiarism allegation. In July, when future first lady Melania Trump gave a speech to the Republican National Convention, viewers quickly seized upon the many similarities it shared with a speech Michelle Obama gave in 2008. This latest offense has some Twitter users musing about a potential new role for Crowley during the Trump administration.