8 men's style subscription boxes for guys who hate the damn mall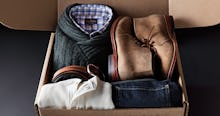 There's no better way to express your love for both men's clothing and the U.S. Postal Service than by subscribing to a monthly clothing club. 
Since they became an aspect of the online shopping experience, these companies have had the chance to seek out and refine what men want, and offer a change from the usual by giving us clothes you can't find in stores. 
From clubs that give you tailor-made shirts to a company that promises enough garb to fill that once-empty trunk at the end of your bed, these are the big dogs in the subscription club service world that could potentially put an end to the days where you'd actually have to go outside to get a fancy new outfit.
With the word "dapper" right there in the name, there's no question that this company is going to give you clothes that'll make you feel like a million bucks. 
These guys bypass all the big name labels and give you tailor-made stuff you literally cannot find anywhere else. Once you complete a quick style profile, a 60-second video measures you by way of a super-futurist algorithm that records your exact size. That's it. Seriously. Dapper Indeed's in-house stylist then picks clothes that they feel will fit you perfectly — style-wise and in terms of size — and sends you a package right to your door. You don't even have to leave your bedroom.
Five Four Club is where you want to go if you hate shopping. Their in-house team of experts create and curate clothes for you. You don't have to even lift a finger — well, you'll have to use your fingers to subscribe. 
Simply fill out your style quiz, in which you tell them what kind of clothing you generally wear (casual, forward, classic or mix) and boom, you'll get three items from their seasonal collection at your doorstep. If you're a member and don't like what you get, you can make an exchange for free. Perfect for the kind of guy who has a drawer in their dresser dedicated to pants they never wear. 
Trunk Club, $100 to $300 per month
Dressing well shouldn't be hard, but it can get overwhelming when you don't know where to start and can't wrap your head around the concept of matching. Are shoes supposed to match your belt or the color of your eyes? 
There is so much more to these trunks than the clothing inside. By signing up, you're getting a collection of hand-picked clothes from big brands that are chosen to fit your body perfectly. Their magic number is six: helping guys find the six essential pieces to their wardrobe. That means you'll get clothes along the lines of a pair of dark jeans, a crisp white shirt, brown shoes and belt, a navy blazer and a killer v-neck sweater.
By working with brands like Bonobos, Eton, Ted Baker and To Boot New York, Trunk Club will change the way your closet looks without overwhelming you with choices. You can meet your stylist in one of the clubhouses in Los Angeles, New York City, Chicago, Boston, Dallas, Washington, D.C., or Charleston, North Carolina, or have a hand-picked trunk sent to your house. 
Bombfell, average of $89 per item
If you have any experience with subscription box services, you know that not everything included in your box is going to be a winner. That's why Bombfell is unique: You have ten days to try on everything they send you, and if you don't like it, you can send it all back for free. You only pay for what you keep. 
Here's how it works: You tell them your style and size preference, show them what you're looking for — a couple pairs of jeans, a few button-ups — then they email a preview your order. After you have the chance to look it over and make changes and adjustments, you send it back to them. Forty-eight hours later, they mail out your box. 
Try out everything, keep what you want, send back what doesn't vibe. Fully customizable and easy, just the way we like it.
For the guy that has his outfit figured out but has no damn clue how to handle accessories, let us suggest Urban Dapper Club. Their vast collection of ties, pocket squares, dress socks and grooming supplies will give guys the accoutrements necessary to complete an outfit without the headache of shopping at a ton of different stores. 
They call their business model "style on autopilot," which is a pretty awesome way to handle your accessories — just let someone else do it.
Fashion Stork is so straightforward, even a fashion-forward toddler could do it. After inputting your size and style preferences into their online form, an in-house stylist personally assembles your box and gives you everything to ensure your outfit kicks ass. 
As they say in their video, guys just don't have the time for fashion (speak for yourself) and Fashion Stork is here to make all those difficult choices for us. Previous boxes have included a dapper Penguin sport coat, Hendrix dress socks and a Twill and Tweed pocket square.
Emblazoned on the front page of their site, Trendy Butler asks the question that maybe everyone has asked themselves at one point: "Why shop when you can have a butler?" Good point. 
Trendy Butler is the fashion club for guys on the trendier side of things — no surprise there. They cater to dudes who truly believe they deserve a butler. Their stylists use your profile to get you clothing from well-known brands from designers at a discounted price. 
In many cases, you can save up to $100 by buying your garb through these guys. That's a hell of a deal.
There's just something especially reassuring knowing that experts have your style in their hands. It's like being followed by Tim Gunn everywhere you go, except without a pending restraining order hanging over your heads.  
For $28 a month, you get a lot: five to six different products along the lines of ties, socks, pocket squares and grooming products. The beauty of SprezzaBox is how cheaply all of this is sold to you, running at $28 for over $100 worth of products. How? We don't ask questions. 
They don't skimp on quality either: We're talking seriously good-looking accessories that'll impress everyone around you. Perfect for a wedding or the funeral of a stylish man.