Trump Inauguration 2017: 7 songs artists and student bands could play to protest PEOTUS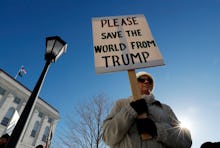 British songstress Rebecca Ferguson came up with a brilliant moment of protest to express her indignation about being invited to perform at President-elect Donald Trump's inauguration. She shared a TwitLonger, saying that she had been approached and that she would agree to perform if only she could sing the mythic anti-lynching anthem "Strange Fruit."
It's "a song that has huge historical importance, a song that was blacklisted in the United States for being too controversial," she said. "A song that speaks to all the disregarded and downtrodden black people in the United States. A song that is a reminder of how love is the only thing that will conquer all the hatred in this world."
Trump's inauguration team will likely never bite on such bait. But there are other opportunities to ensure that similar truths have a presence in Trump's parade marches — specifically perhaps in the high school band. A well-coordinated horn section breaking off into their own melody might be an excellent opportunity to turn a compromising situation into a moment of national reflection. 
Here a few songs the protest-minded could consider:
"A Change Is Gonna Come" by Sam Cooke
As one of the most moving and earnest songs out of the civil rights movement, Sam Cooke's plaintive "A Change Is Gonna Come" speaks to generations of pain but still manages to look to the future with hope. The lyrics deliver a far more whole and complete vision of society than anything Trump's "Make America Great Again" has suggested.
"We Shall Overcome" by Mahalia Jackson 
"Resilience" is going to be the key word and value to keep front of mind over the next four years. It will be a difficult stretch, but something that will not diminish the spirit of individuals who still see a more open and equal world on the horizon. Mahalia Jackson's "We Shall Overcome" speaks to that vision and deserves a place in the upcoming inauguration.
"This Land Is Your Land" by Woody Guthrie
One of the key issues that the election discourse sought to define is what the American experiment means and what makes it great. A disconcertingly narrow definition that can generally be summarized as white, nativist and selectively Christian won out, but that doesn't mean that win must silence the debate. Guthrie's "This Land Is Your Land" asks pointed questions about who America actually belongs to and who it should belong to. We can't stop asking them.
"Get Up, Stand Up" by Bob Marley
Bob Marley's music has long sought to speak to the powerless, the dispossessed and the wronged. Under Trump, we'll potentially have a lot more groups that will fall under those appellations. Marley's messages on his most powerful protest anthems, such as "Get Up, Stand Up," will ring truer than ever.
"Killing in the Name" by Rage Against the Machine
Prophets of Rage, 2016's Tom Morello-led Rage Against the Machine tribute band, wasn't able to fully bring back the spirit of resistance the group channeled throughout the mid-'90s. But their music still holds power, particularly "Killing in the Name," a song that draws eerie comparisons between Ku Klux Klan members and unfeeling police officers, two groups we'll likely see were emboldened by Trump's win.
"Masters of War" by Bob Dylan
Which candidate was the bigger warmonger? Too much of the election discourse can be reduced to this fundamental question, and the answer will never be fully clear. No matter who won, Bob Dylan's warning about war's fallout and dangers of endless war would have given necessary food for thought to the victor for their ensuring four years.
"Imagine" by John Lennon
After the election, Jon Stewart gave an interview with CBS This Morning in which he posed a glaringly obvious oversight in election coverage: No one asked Trump what makes America great. His supporters had to use their imaginations, which conjured up some frankly terrifying visions of the future. At times during "Imagine," John Lennon was more specific about his vision of the future than Trump ever was. It's a vision that deserves to be scrutinized over the next four years.