2017 Obamacare enrollment dates, deadlines and more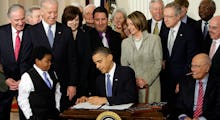 On Jan. 4, President Barack Obama and Vice President-elect Mike Pence visited Capitol Hill to make a case for and against the Affordable Care Act, respectively. Obama encouraged Democrats to do what's necessary to preserve the ACA, whereas Republicans vowed to gut the Affordable Care Act once they take control of Congress and the White House. 
Even though the future of Obamacare may look like yet another gridlock on Capitol Hill, the law is transforming the American health care system. According to the New York Times, "It's a change that nearly everyone, Republicans and Democrats, agrees is desperately needed — and for it to happen, the relevant parts of the ACA must be preserved." 
What's more, the Washington Post reported over 6 million people signed up for ACA plans. That's more than in previous years — and the number can keep growing for those who still don't have insurance and wish to apply this year. 
26 days left to enroll 
If you are still uninsured and want to receive coverage from the marketplace, bear in mind the deadline is Jan. 31. If you're unable to submit your application by this date, you may qualify to enroll or change plans under a Special Enrollment Period. 
Create an account
First, you must select the state you live in. Visit Healthcare.gov for more details, or you can also apply by phone, in person or filling a paper application. 
Cost and eligibility 
According to Healthcare.gov, your savings depend on your expected household income for 2017. Eight in 10 people who apply are eligible for subsidized insurance, and the majority of applicants can find plans that range from $50 to $100 per month. Based on your income, you may qualify for a premium tax credits that decreases your monthly insurance bill. 
Obamacare is designed primarily for those who don't have health insurance through a job, Medicare, Medicaid, the Children's Health Insurance Program or any other source. If you have job-based insurance, you can purchase an Obamacare plan, but bear in mind you may have to pay a full price unless your job-based insurance doesn't meet certain criteria. If you have Medicare, you can't switch to Marketplace
It's the law 
If you don't enroll this year, the penalty is either 2.5% of your household income or $695 per adult. However, some people qualify for an exemption.