'A Series of Unfortunate Events' release date: What time will new episodes be on Netflix?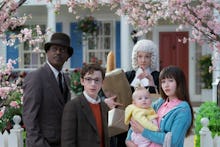 It makes sense that A Series of Unfortunate Events, the upcoming Netflix series based on the popular children's book series by author Lemony Snicket, would drop during the coldest and bleakest time of the year. To add to the sinisterness of it all, Netflix will release the series on perhaps the most ominous day possible: Friday, Jan. 13. 
Yep... Friday the 13th.
Available to stream at 3:00 a.m. Eastern, A Series of Unfortunate Events not only succeeds the 13 books (ha!) by Snicket — the pen name of author Daniel Handler — but also the 2004 film featuring Jim Carrey as Count Olaf, the series' flamboyant antagonist. 
Here's Netflix's summary of the series:
Based on the internationally best-selling series of books by Lemony Snicket (aka Daniel Handler) and starring Emmy and Tony Award winner Neil Patrick Harris, 'Lemony Snicket's A Series of Unfortunate Events' recounts the tragic tale of the Baudelaire orphans — Violet, Klaus and Sunny — whose evil guardian Count Olaf will stop at nothing to get his hands on their inheritance. The siblings must outsmart Olaf at every turn, foiling his many devious plans and disguises, in order to discover clues to their parents' mysterious death. 
Neil Patrick Harris will be playing Olaf, and newcomers Malina Weissman, Louis Hynes and Presley Smith will star as Violet, Klaus, and Sunny, respectively. Other big names attached to the series include Catherine O'Hara, Don Johnson, Alfre Woodard, and Joan Cusack.
The Baudelaires and all their misfortunes will be available for streaming on Netflix starting Jan. 13.