Trump inauguration tickets: How you can attend the president's swearing-in ceremony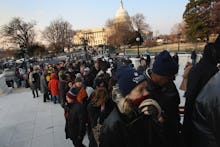 Thursday, Sen. Roy Blunt (R-Mo.), the chairman of the Joint Congressional Committee on Inaugural Ceremonies, unveiled the official tickets for President-elect Donald Trump's Inauguration Day, D.C.-area radio station WTOP reported. Sen. Blunt said that nearly 700,000 people are expected to attend the inauguration, 500,000 of which will be non-ticket holders in the National Mall area. 
In addition to the tickets, Sen. Blunt also announced there would be more official entrances to the ceremony than in previous years, though attendees will go through rigorous security before being allowed inside, according to D.C. NBC News affiliate NBC4.
Ticket availability
WTOP reports that the committee will release tickets to members of the House of Representatives on Jan. 9. Tickets will be made available to members of the Senate on Jan. 10. Members of Congress are responsible for releasing the tickets to their own constituencies.  Call the offices of your local representative or senator for more information. 
According to NBC4, tickets are categorized by seven colors — light blue, dark blue, red, orange, yellow, green and gray — to designate special seating areas and suggested entrance points. The backs of the tickets will illustrate a map with color-coded seating areas. 
Attendance details
Blunt said that attendees without tickets will not be admitted into secure areas, according to NBC4. 
If you're unable to get hold of a ticket, you can still see the program from the National Mall, west of Fourth Street, where large crowds usually assemble for inauguration ceremonies.
The inaugural ceremony is slated to begin at 11:30 a.m. on Jan. 20.