Russia begins withdrawing forces from Syria, according to state-run news agency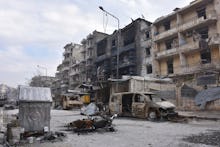 Russia has begun withdrawing forces from Syria, its state-run news agency, Tass, reported Friday. The first thing to go, according to the report, will be the Admiral Kuznetsov aircraft carrier and various warships stationed off the coast of the war-torn Middle Eastern nation.
In December, Syrian forces retook the city of Aleppo from rebel control. At the end of the month, with the backing of Russia, the Syrian government announced a ceasefire agreement with rebels and Turkey. According to the Associated Press, "the truce has mostly held but not altogether halted fighting in the country, and the government and opposition have blamed each other for violations of the truce."
On Friday, the Russian aircraft carrier will begin its journey from the Mediterranean to Severomorsk in northwestern Russia, Russian General Staff chief Gen. Valery Gerasimov said, according to Tass. 
Peace talks are set to take place later this month in Kazakhstan's capital, Astana, the AP reported.
Russia has backed the Syrian government in the nearly-six-years-long civil war that has claimed a staggering 470,000 lives.