Astronaut Jeanette Epps to become first African-American space station crew member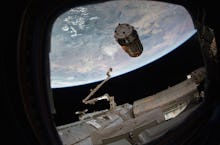 Astronaut Jeanette Epps is gearing up to make history.
NASA announced Wednesday that Epps would be assigned to missions aboard the International Space Station in 2018 — making her the space station's soon-to-be first African-American crew member. The journey will be Epps' first flight into space.
Veteran astronaut Andrew Feustel will also be carrying out space station missions in 2018, NASA said. He'll launch in March of next year, to be joined by Epps — who will work as a flight engineer — in May.
Chris Cassidy, chief astronaut at NASA's Johnson Space Center in Houston, said in the press release that both Feustel and Epps have "a lot to offer," and that "the space station will benefit from having them on board." 
African-American astronauts in space: Guy Bluford was the first African-American in space in 1983. More recently, Stephanie Wilson flew aboard the space shuttle Discovery for the STS-131 mission to the International Space Station in 2010. 
Epps will be the first African-American astronaut assigned to live and work on the International Space Station — not a shuttle — for an extended period of time.
According to her NASA profile, Epps earned a Bachelor's degree in physics from LeMoyne College in 1992. She completed a Master's of science in 1994 and doctorate in aerospace engineering 2000, both from the University of Maryland. In 2002, Epps joined the CIA and worked as a technical intelligence officer for seven years. 
She was one of 14 people selected for NASA's 20th astronaut class in 2009.
With any luck, she'll document her journey into space next May on her Twitter account.
BONUS: Click here to check out the launch of the Orbital ATK Cygnus Cargo Craft to the International Space Station LIVE on April 18!