Trump Inauguration Speech 2017: 5 things we want to hear from Donald Trump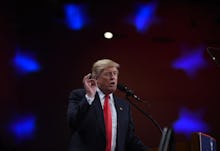 The inaugural address, a speech that informs the American people of the incoming president's goals or vision for the country, has given us some of U.S. history's most powerful and memorable quotes. In 1933, Franklin D. Roosevelt said: "The only thing we have to fear is fear itself." In 1961, John F. Kennedy said: "Ask not what your country can do for you — ask what you can do for your country."  
What will President-elect Donald Trump say at his Jan. 20 inauguration? While we can't know for certain what Trump's speech will entail, we do know what listeners hope to hear. In a recent poll from Politico/Morning Consult, respondents were asked about "10 potential priorities for the incoming Trump administration, whether it was likely Trump would mention them during his inaugural address on Jan. 20 and how important it is that Trump address those topics in the speech."
Here's what Americans want to hear from Trump on Inauguration Day.
Jobs 
The Politico survey found that 48% of participants want to hear Trump discuss how he will keep manufacturing jobs in the United States, and 47% of them would like to know if his administration would bring jobs back from other countries. 
"It's no surprise that Americans want Trump to focus on jobs in his inauguration speech," Kyle Dropp, Morning Consult chief researcher and cofounder, told Politico. "It is one of the messages his supporters liked most during the election and has continued as a major focus of his since he was elected president."
Healing the country 
It's no secret the 2016 presidential election was polarizing — a fact Time magazine highlighted when it named Trump the "Person of the Year" under the title "President of the Divided States of America." 
Nearly half of registered voters (49%) say healing the country after the election is "very important" for Trump's speech, according to Politico. 
Supreme Court appointments
The Politico survey revealed that 34% of registered voters think it's very important for Trump to discuss appointing an associate justice to fill the vacant Supreme Court seat. According to CNN, Trump has committed to sticking to a shortlist of 21 potential Supreme Court nominees, including Sen. Ted Cruz. 
Meanwhile, Merrick Garland's nomination to the Supreme Court expired Jan. 3. 
Efforts to separate from his business 
When it comes to Trump's efforts to detach himself from his businesses to prevent conflicts of interest, 34% of surveyed voters think addressing this issue is "very important" during his inaugural speech, according to Politico. 
The New York Times reported Trump has businesses in at least 20 countries, posing potential conflicts across the globe for the president-elect. 
Obamacare  
The future of the health care law is in peril, yet 36% of Politico's poll participants believe it is "very important" for Trump to discuss the Affordable Care Act during his inaugural address.