Winter Storm Helena 2017 Update: Latest forecast, path and which states will get hit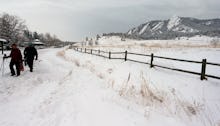 Winter storm Helena, which began its cross-country path on Thursday, has already pummeled the much of the country with wind, ice and several feet of snow. So far, the storm has prompted two states to declare states of emergency. Temperatures following the storm are expected to stay low, resulting in icy conditions across the country as a second storm follows close behind Helena.
The storm dumped several feet of snow in the Sierra Nevada mountain range, prompting worries for possible floods and landslides which could occur once the snow melts. Meanwhile, the storm behind Helena has the National Weather Service concerned about a possible "atmospheric river" in California this weekend that could cause the greatest flooding in the state since 2005. The "atmospheric river" is a "once-in-a-10-year event," meteorologist Zach Tolby told the Los Angeles Times. The last atmospheric river to hit California in 2005 and 2006 reportedly caused $300 million in damage.
Winter storm Helena is responsible for at least 2 deaths
Officials shut down roads in San Antonio on Friday due to ice, and conditions in Oklahoma City caused multiple car accidents.
Zaylee Schlect, an 8-year-old girl in Otis, Oregon, was killed Tuesday after strong winds brought a tree down onto her home. She was rushed to a nearby hospital but died from her injuries.
In Kentucky, 55-year-old Daniel Noble died after his truck slid off the road and hit a rail fence on Thursday. He was pronounced dead at the scene.
States of emergency in Alabama, Georgia and North Carolina
In a news conference Friday morning, North Carolina Gov. Roy Cooper announced a state of emergency for every county in the state ahead of snowfall expected in the evening. According to a local Fox News affiliate, the state's National Guard is on standby and Cooper expects temperatures to stay around freezing until Tuesday, making roads slick and requiring Highway Patrol to check abandoned vehicles for drivers and passengers who might be trapped.
Alabama Gov. Robert Bentley on Thursday announced that a state of emergency would take be taking effect across the entire state "to ensure all available state resources are ready to be deployed if and when it is deemed necessary." According to the governor's announcement, 300 soldiers from the Alabama National Guard have been activated to assist support teams at the Joint Force Headquarters in Montgomery.
In Georgia, Gov. Nathan Deal also declared a state of emergency, slated to take effect starting at noon on Friday. On Wednesday, Georgia's Emergency Management and Homeland Security team urged residents to prepare to stay at home for at least three days ahead of deteriorating weather conditions.
New Mexico Gov. Susana Martinez also activated the state's emergency operations center on Thursday as some northern areas of the state anticipate up to a foot of snow by Friday night.
Winter storm Helena is expected to move further east through Saturday. In Georgia, Helena is expected to be followed by "bitter cold" on Sunday.