Ed Sheeran "Castle on the Hill" and "Shape of You" hone a needed edge on his nice guy pop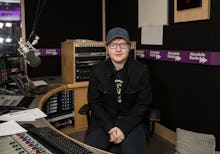 Before anything else, before being a talented songwriter, before being a multi-platinum music industry mensch, most profiles of Ed Sheeran say that he's a nice guy — perhaps the "nicest guy." For years, he's been the poster child of that special brand of inoffensive acoustic ballad pop that weddings and bar mitzvahs demand and pop stars keep rolling out, whether wider audiences want to hear them or not. 
Sheeran was the best of them back in 2014 when he released his album Multiply, but times have changed. The nice guy is no longer king of the pop charts, as MTV noted in a pointed but necessary question piece in advance of his return: "Where Does Ed Sheeran Fit Now?"
His Friday releases "Castle on the Hill" and "Shape of You" answer: pretty much right where he did before, but with a just enough additional edge to keep his songs interesting in an increasing crowded and competitive musical scene.
Now granted this is Ed Sheeran, so when I say "edge," I'm talking something like the lightly serrated edge of a butter knife.
"Castle on the Hill" listens like a sonically grittier reboot of Lukas Graham's Grammy-nominated "7 Years." Sheeran's track shares a similar nostalgia tale, over a gradually building folk thump. It's one of the most ambitious soundscapes Sheeran has ever attempted to build, the densely layered guitars providing an indie movie airiness for his light snarls.
Sheeran's also trying out a bit of pop's current obsession with tropical vibes with "Shape of You." But where others have tried and failed to make anything useful for anything beyond car commercials — Maroon 5 and Kendrick Lamar's "Didn't Wanna Know," for one example — Sheeran opts for the unexpected in the hook, building some odd summoning chants on a reggaeton beat.
Sheeran's new singles aren't at the experimentation level of  Anti, Lemonade or Blonde — the three big-name-pop-artist albums that dominated in 2016. The conversation currently demands experimentation and risk, so much so that albums like the Weeknd's largely sanitized Starboy and Drake's unambitious Views felt like lost opportunities compared with the year's more transformational offerings.
Sheeran's first songs off of the presumably titled Divide manage a deft balancing act of delivering the familiar palette-cleansing pop his audience needs, while also nodding to pop's increasing inclination towards the unexpected and the edgy.
It's an impressive victory. One that Sheeran needed, because pop has largely turned its back on his nice guy stylings — for better or for worse.