In 'Truth and Lies' documentary, the Menendez brothers repeat their claims of abuse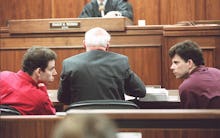 There is no shortage of disturbing facts and unproven claims surrounding the story of Lyle and Erik Menendez, two brothers convicted of first-degree murder in the 1989 shooting deaths of their parents, Jose and Kitty Menendez. But the notorious brothers, who have long been the subject of public fascination, have reclaimed their place in the headlines following ABC's two-hour documentary special titled Truth and Lies: The Menendez Brothers — American Sons, American Murderers.
In the documentary that aired Jan. 5, the brothers — who have been in prison for the past 26 years — spoke about the motive behind their actions and claimed the murders were carried out in self-defense after years of abuse inflicted by both parents. 
Alleged abuse 
During the trial, Erik Menendez described his relationship with his father as "brutal." At the age of 10, he said he told his cousin, Diane Vander Molen, that his father was "massaging his dick." Lyle Menendez echoed these abuse claims and said his father "would fondle me and asked me to do the same with him."
"We would be in the bathroom and he would put me on my knees and he would guide me on my movements and I would have oral sex with him," Lyle Menendez said. 
According to the Los Angeles Times, Lyle Menendez testified that his mother abused him, too, telling the court she would invite him to bed with her and that he touched her "everywhere." 
Family testimony 
Vander Molen told ABC News she believed her cousins were victims of sexual abuse. 
"I know that they would never, ever have done what they did unless they felt that they had no choice — that it was either them or their parents," she said. "I believe that very strongly."
Vander Molen testified at the brothers' first trial that, in 1976, an 8-year-old Lyle Menendez had confided in her about the alleged abuse. 
"One night, I was in my room changing the sheets in my bed, and Lyle came in," she told ABC. "He became very serious about asking me if he could sleep in the other bed next to mine and saying that he was afraid to sleep in his own bed because his father and him had been touching each other down there, indicating that it was his genital area."
Vander Molen claimed she told Kitty Menendez what Lyle Menendez told her, but Kitty did not believe her. Since Lyle Menendez never mentioned it again, Vander Molen said she thought the abuse had ended. 
Multiple trials 
It took two trials and three juries to convict the brothers, who shot their parents a total of 15 times on Aug. 20, 1989, in the den of their Beverly Hills mansion. The pair originally claimed innocence of the crime but were arrested after Lyle Menendez confessed to his ex-girlfriend and Erik Menendez to his psychologist. 
They were first tried in 1993, when Erik Menendez's defense attorney, Leslie Abramson, pleaded self-defense. Abramson said the brothers shot their parents out of fear they themselves would be killed if they spoke out about the alleged abuse. During the trial, the brothers were described as having been "punched, belt-whipped and molested" by their parents, according to TIME.  
"I was just sitting on the couch with my hands on my head saying we're going to die, I can't believe this," Erik Menendez said, according to the Wrap.
Lyle also said, "I thought they were going ahead with their plan to kill us."
The first trial ended in hung juries, and the second — which began in 1996 and included just one jury for both brothers — resulted in first-degree murder convictions and sentences of two consecutive life terms without parole.