Joe Biden just told Trump to "grow up." Here are 5 sick Trump burns from the outgoing VP.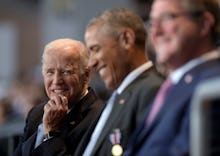 In a PBS NewsHour interview with Judy Woodruff, which aired Thursday night, Biden had some stern words for President-elect Donald Trump. 
"Grow up, Donald," Biden said. "Grow up. Time to be an adult. You're president." 
"You've got to do something," he continued. "Show us what you have."
Biden also commented on Trump's public derision of U.S. intelligence agencies, describing it as "dangerous" and "absolutely mindless":
"The idea that you know more than the intelligence community knows, it's a little like saying, 'I know more about physics than my professer — I didn't read the book, I just know I know more,'" said Biden. "It's worrisome.
But this isn't the first time Biden has lit into Trump. Biden got a head start during the presidential elections. Here are five of his most scorching statements on No. 45.
1. "I've never known of a candidate who knows as little about the world as this man does."
"I've never known of a candidate who knows as little about the world as this man does," Biden told Jimmy Fallon on the Tonight Show in September. 
Biden said that after Trump suggested he might withdraw from NATO, the vice president had to do substantial damage control, ensuring allied countries this would not be the case.   
Biden added, "I don't think he understands how much damage he does."
2. "There's hope — he found out Crimea's part of Ukraine."
During the same interview, Biden sarcastically offered a morsel of optimism to the American people, congratulating Trump for discovering "Crimea's part of Ukraine."
3. "I wish we were in high school and I could take him behind the gym."
In October, while campaigning for then-Democratic candidate Hillary Clinton in Pennsylvania, Biden refused to hold back when talking about the "Trump tapes," in which Trump was caught on a hot mic saying he liked to "grab [women] by the pussy."
"Think of the abuse of power that has been exercized by the Republican nominee. ... What he said he did and does is the textbook definition of sexual assault," Biden, who has made the issue of sexual assault a key part of his last years in office, asserted to a charged crowd. 
Shortly after, he said he'd like to take Trump "behind the gym" to presumably give him a beating in retribution. 
4. "I bet he couldn't carry his bag 18 holes in one of his own golf courses, speaking of energy. Can you imagine the president getting up at 3:30 in the morning and tweeting vitriol?"
Biden commented on Trump's late night Twitter tirades in an interview with CNN in October. 
In it, he indicated it was unseemly for a president to engage in social media warfare in the middle of the night and that it was a poor use of Trump's energy. 
5. "His ignorance is so profound, so profound."
"He's not a bad man," Biden added in the CNN interview. "But his ignorance is so profound, so profound."
The vice president was discussing Trump's comments, in which he suggested soldiers who have post-traumatic stress disorder were simply weak. 
And the list would be lacking if it wasn't replete with a Biden meme. So here's one inspired by his Trump burns. 
Watch the PBS NewsHour interview here: