What time is 'Sherlock' season 4, episode 2 on PBS?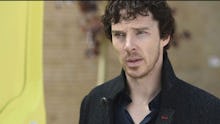 London's greatest detective is back! Nearly three years after the season three finale, Sherlock returned with a stellar fourth season premiere. Things are only going to get more intense as the season, described on BBC as the "darkest season yet," continues to unfold. 
Episode two of season four, titled "The Lying Detective" is right around the corner, so here is what you need to know so you do not miss a minute of it. 
When should I set my DVR?
Season four, episode two of Sherlock will air Sunday, Jan. 8 at 9 p.m. Eastern on PBS. The episode is set to be roughly 90 minutes, with TV Guide having the show ending at 10:37 p.m. If you do not plan on watching live, make sure those DVRs are set accordingly. Should you forget, you can watch the episode online after it airs on PBS' website here. 
Synopsis and trailer
Just in case you are not pumped enough already for the next episode of Sherlock, here is the official synopsis from PBS, as well as the episode's promo: 
In episode two Sherlock, season four, Sherlock faces perhaps the most chilling enemy of his long career: the powerful and seemingly unassailable Culverton Smith, a man with a very dark secret indeed.
Check out the trailer for "The Lying Detective" below:
Mic has ongoing coverage of Sherlock. Please follow our main Sherlock hub here.