Wages grew in 2016 — but what about 2017? 3 ways to get more money no matter what happens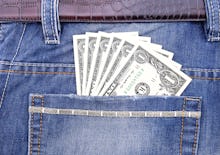 Over the course of 2016, wage growth was an expectation-beating 2.9%, according to the latest jobs report from the Bureau of Labor Statistics.
The report also found that the economy added 156,000 jobs in December.
It's the last jobs report of President Barack Obama's administration, prompting commentators to reflect on the numbers Obama inherited when he first assumed office — and the economy was losing hundreds of thousands of jobs. 
In terms of job creation, Obama's could actually go down as one of the most effective administrations of the century, with 75 consecutive months of job creation — the longest streak since 1939 — all while shrinking the federal payroll, as Politico's Dan Diamond noted in a series of tweets. 
And, while hourly wages rose 10 cents last month — which might not seem like a ton of cash outright — that's about $208 over the course of the year, working 40 hours per week for 52 weeks a year. In other words, not a bad raise.
Still, 2017 will be full of financial uncertainty for many reasons.
So make sure you have a plan, in case wages stop rising for the average American.
Here are a few things you can try to do to get yours — and do better than the rest (who wants to be average anyway?) — this year.
Ask for a raise the smart way. 
Set aside how uncomfortable you feel about the awkward conversation: The best way to earn more money is to ask to get paid more for the job you're already doing.
To do that, it's important to figure out what you're worth before you talk to your boss.
In addition to the monthly jobs report, the BLS also produces an Occupational Handbook that carefully tracks what people make in different fields and in different states.
Use this to get a ballpark to avoid low-balling yourself (or getting laughed out of the room).
Some other good tips?
A Columbia Business School study found that people who asked for precise dollar amounts were seen as being more informed about their worth. So, think of asking for a $1,075 raise instead of an even grand. 
One you've got your obscure number all picked out, think about how much more you think you might be able to get — since another separate study has shown that people often fare better in negotiations when they offer a range instead of a fixed amount. 
The key here is to choose the right anchor number and not lowball yourself: If you determine that you're worth $60,000 a year, for instance, your best bet is likely to request between $60,500-$65,500 to get yourself the sweetest offer. 
Embrace your inner type-B.
When asking for a raise or seeking a new, better-paying job, most people know about the importance of keeping a polished resume, a few solid references — and a deep understanding of your marketable skills.
But something that people often neglect?
Actually getting the person with the power to like you. 
Research suggests that if you fail to schmooze, ya lose: Savvy applicants who are able to work in a quick personal phone call before starting negotiations typically get better outcomes, even when negotiating salary later over email. 
An even weirder trick? Work on emulating body language, since mimicry has been found to enhance interpersonal trust and improve negotiations.
And if you're negotiating with a person you already know, get in the right mindset to get in their head.
Take a couple hours and stream that show your boss won't shut up about.
Get your unclaimed cash. You heard that right.
If raises or extra work are proving hard to come by, take a few hours and get paid all the money that you're owed, but maybe haven't claimed.
Say, what?
The government has a webpage where you can track down money of yours that's idling away. 
This unclaimed cash comes from everything to unused savings bonds and tax refund checks to unclaimed lottery winnings. I mean, you never know. 
There also might be some class action lawsuits you can pile on to as well.
For instance, if you used Johnson & Johnson bedtime products for babies after hearing ads that it's "clinically proven" to help babies sleep, you may have as much as $30 coming your way.
Buy a Conair Infiniti Pro hair dryer before Aug. 31 of last year? 
Well that's another $5 right there. None of these class action claims will make you rich overnight, but there's a lot of them, and they can add up.
Sign up for The Payoff — your weekly crash course on how to live your best financial life.