Coachella owner Philip Anschutz claims he no longer funds anti-LGBT groups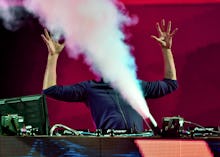 After news broke earlier this week that Philip Anschutz, CEO of Anschutz Entertainment Group (the company that owns Coachella), has a history of donating to anti-LGBTQ groups, Anschutz released a statement to Rolling Stone, where he spoke out against the allegations, referring to them as "fake news." 
"Recent claims published in the media that I am anti-LGBTQ are nothing more than fake news — it is all garbage," Anschutz said.
On Jan. 4, Afropunk reported that between the years of 2010-2013, the Anschutz Foundation donated $110,000 to the Alliance Defending Freedom, $50,000 to the National Christian Foundation, and $30,000 to the Family Research Council. In 2016, the LGBTQ advocacy group Freedom for All Americans created a list of organizations that were notorious for supporting anti-LGBTQ causes and each of these groups made the list.
Despite this questionable history, Anschutz made clear that AEG — and by extension Coachella — are not on board with anti-LGBTQ causes.
"I unequivocally support the rights of all people without regard to sexual orientation. We are fortunate to employ a wealth of diverse individuals throughout our family of companies, all of whom are important to us — the only criteria on which they are judged is the quality of their job performance; we do not tolerate discrimination in any form."
Anschutz also asserted that he has supported several LGBTQ advocacy groups and stopped supporting any organization that has a track record of endorsing anti-LGBTQ causes.
Both the Anschutz Foundation and I contribute to numerous organizations that pursue a wide range of causes. Neither I nor the Foundation fund any organization with the purpose or expectation that it would finance anti-LGBTQ initiatives, and when it has come to my attention or the attention of the Anschutz Foundation that certain organizations either the Foundation or I have funded have been supporting such causes, we have immediately ceased all contributions to such groups.
A representative from his foundation affirmed, when asked about specific groups, that "we have immediately ceased all contributions to such groups."
This year's Coachella festival will take place over two weekends. The first begins on Apr. 14 and runs until the 16 and the second starts on Apr. 21 and ends the 23. Headlining the festival are Radiohead, Beyoncé, and Kendrick Lamar.