'Sherlock' Season 4, Episode 2: When and where to watch 'The Lying Detective'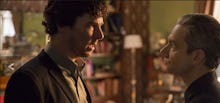 Sherlock fans entered the fourth season of the BBC series expecting to see the ramifications of whatever nefarious plan James Moriarty had put in place before his death at the end of season two. As it turns out, though, Sherlock, Watson and the rest of the gang have had to deal with different threats altogether. 
In the season four premiere, titled "The Six Thatchers," Sherlock embarked on a case that he suspected may have been connected to Moriarty or the missing black pearl of the Borgias. Instead, he ended up stumbling upon a secret from Mary Watson's past. The end result left Sherlock and John's relationship completely in shambles. 
The boys of Baker Street will have to get their act together soon, though, as episode two, titled "The Lying Detective" is set to introduce a villain that has been described as "the purest evil." 
When and where to watch "The Lying Detective"
Sherlock fans have a few options for watching the second episode of season four. Of course, if you cannot wait a second longer than you have to for each episode, you can watch "The Lying Detective" on PBS at 9 p.m. Eastern. Should you live in the United Kingdom, the episode will air on BBC One at 21:00 local time. 
For those that will not be able to watch live, there are several options to stay up to date. First, the episode should be available on PBS' website shortly after it airs. For those in the United Kingdom, you can watch on BBC iPlayer following the the original broadcast. 
If you love Sherlock so much that you just have to own each episode, you can purchase them on Google Play, iTunes and Amazon. Viewers in Norway and other areas of the world can reportedly watch new episodes of season four on Netflix as they are released. Netflix subscribers in the United States aren't as lucky: Season four should become available sometime in June or July for U.S. subscribers, per Netflix Life. Currently episodes of Sherlock from seasons one through three (including "The Abominable Bride") are only available for streaming on Netflix.
Mic has ongoing coverage of Sherlock. Please follow our main Sherlock hub here.