Massachusetts county sheriff suggests inmates build Trump's wall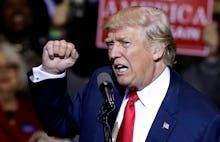 Friday morning brought renewed promises from President-elect Donald Trump to build a United States-Mexico border wall. This time, though, one of Trump's most emphatic campaign pledges came with a caveat: Congress would find the funds for the wall; Mexico would reimburse us.
A Massachusetts county sheriff thinks he has a better idea. At his swearing-in ceremony for his fourth term on Wednesday, Bristol County Sheriff Thomas Hodgson proposed that inmates across the U.S. build the wall instead. It wouldn't cost the government a thing.
"I can think of no other project that would have such a positive impact on our inmates and our country than building this wall," Hodgson said, according to Reuters. 
He added, "Aside from learning and perfecting construction skills, the symbolism of these inmates building a wall to prevent crime in communities around the country, and to preserve jobs and work opportunities for them and other Americans upon release, can be very powerful."
The Atlantic has referred to prison labor as "American slavery, reinvented," pointing out that the very amendment that abolished slavery is the same one that allows for the existence of the practice "as punishment for a crime whereof the party shall have been duly convicted." 
That means the country's 2.3 million incarcerated people make up a significant portion of the U.S. workforce. In the last fiscal year alone, federal prisons operated about 53 factories which produced $500 million in merchandise, according to Reuters.
Inmates have described at length the insidious system that makes prison labor requisite, even in those prisons with an at-will policy. 
"It was more of a volunteer thing than it was forced labor, but it was tantamount to the same thing," former Virginia inmate Stewart Anderson told ThinkProgress in September. Prisoner "The system systematically forces you to work without 'forcing you to work.' Poor quality of food drives you to you to take on a prison job that pays you an average of 32 cents an hour, and you worked an average of five, six hours a day." 
American Civil Liberties Union staff counsel Laura Rotolo agreed that Hodgson's suggestion that the government use inmates to build Trump's wall would be "inhumane."
"The proposal is perverse, it's inhumane and very likely unconstitutional," she said in an interview with Reuters. "It certainly has nothing to do with helping prisoners in Massachusetts or their families. It's about politics."