'Kingdom Hearts 2.8' Release Date: When to get the new collection and what it comes with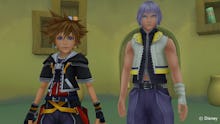 Kingdom Hearts 3 is coming out... someday, but until then, fans of the series are champing at the bit for more from the gigantic mashup of Disney and Final Fantasy. It's like Super Smash Bros., but for RPGs. Unfortunately, there's no word on when they'll add Ariana Grande yet, but we do have Kingdom Hearts 2.8 to look forward to.
The next convoluted release in the Kingdom Hearts series is out very soon. The full name is (take a deep breath) Kingdom Hearts HD 2.8 Final Chapter Prologue. It's a collection of three separate Kingdom Hearts products that will help you catch up to the franchise's increasingly complex web of storylines. It launches on Jan. 24, exclusively on PS4.
Here is what you can expect for $59.99 once the Kingdom Hearts 2.8 release date rolls around.
Kingdom Hearts 2.8 Release Date Details: A remake of Dream Drop Distance
First, the package comes with a full remake of Kingdom Hearts: Dream Drop Distance. The original game was on 3DS (hence the three D's in the subtitle) and it follows series heroes Sora and Riku as they prepare for the Mark of Mastery exam sometime between Kingdom Hearts 2 and 3. 
The dual screen gameplay from the original has been tweaked to fit a more traditional console control scheme, according to Polygon. If you missed the 3DS original and want to play it in glorious HD, now is your chance.
Kingdom Hearts 2.8 Release Date Details: A new movie
Kingdom Hearts X Back Cover is the second part of the collection, but it isn't a video game. Instead, it's a CG movie that serves to explain aspects of the earliest parts of the franchise's chronology. It tells the "mysterious story" of the Foretellers, who were seen in the mobile game Kingdom Hearts Unchained X.
Kingdom Hearts 2.8 Release Date Details: The confusingly named new episode
If you want an idea of how Kingdom Hearts 3 will look and play, the lone piece of new video game content in this package should serve as a preview. Kingdom Hearts 0.2 Birth by Sleep – A Fragmentary Passage is a short episode designed to lead into the upcoming third game in the main trilogy. It's made using the same technology as Kingdom Hearts 3, so hopefully it will whet your appetite until that game comes out.
Set after the PSP game Kingdom Hearts Birth By Sleep, you'll play as Aqua in a fragmented world based on Cinderella. This probably isn't the place to jump in if you're new to the series, but for dedicated fans, this package is probably worth the price of admission.