Arnold Schwarzenegger just called Donald Trump out for his petty, petty tweets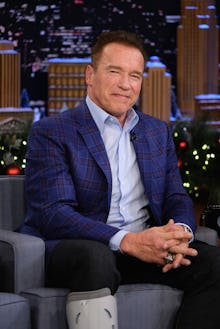 Former California Gov. Arnold Schwarzenegger shamed Donald Trump on Friday, calling the president-elect out for the petty tweets Trump sent, mocking Schwarzenegger's ratings on his reality show, The New Celebrity Apprentice.
"There's nothing more important than the people's work, @realDonald Trump," Schwarzenegger tweeted in response to Trump's attacks, a sarcastic response chiding Trump for focusing on television ratings instead of his soon-to-be job as President of the United States. 
Schwarzenegger's tweet comes after Trump attacked Schwarzenegger's star power, pointing out that Trump received higher ratings as host of Celebrity Apprentice. 
"So much for being a movie star," Trump tweeted of Schwarzenegger.
But Schwarzenegger refused to stoop to Trump's level, tweeting that he wished the President-elect "the best of luck" and said he hopes Trump will "work for ALL of the American people as aggressively as you worked for your ratings."
Schwarzenegger also offered Trump a history lesson, tweeting out a video of himself reading a famous portion of Abraham Lincoln's inaugural address.
We are not enemies, but friends. We must not be enemies. Though passion may have strained it must not break our bonds of affection. The mystic chords of memory, stretching from every battlefield and patriot grave to every living heart and hearthstone all over this broad land, will yet swell the chorus of the Union, when again touched, as surely they will be, by the better angels of our nature.
"Please study this quote from Lincoln's inaugural, @realDonaldTrump," Schwarzenegger tweeted, linking to a video of himself reading the quote. "It inspired me every day I was Governor, and I hope it inspires you."