Las Vegas woman calls Filipino neighbor "orange motherfucker" in racist rant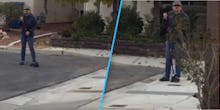 A woman caught on camera hurling racist slurs toward her Filipino neighbor in Las Vegas walked back those comments later when interviewed by local news outlet KTNV.
In the video, originally posted to Facebook Live by Dexter Manawat but since taken down, the woman calls Manawat an "orange motherfucker" and then says he's "from some piece of shit, Manila-ass, fucking ghetto living under a fucking tarp piece of shit land. ... You're just like one generation out of the jungle, like fucking loin-cloth wearers!" 
After the incident, when KTNV interviewed the woman, she "was in tears as she sincerely apologized." 
"I stooped to the lowest possible denominator to hurt someone because I was angry," she says.
According to the woman, the rant wasn't directed at the Filipino community, but at Manawat, who admitted he's not always the best neighbor, but said, "that doesn't mean you have to go off on my culture and nationality," he said to KTNV.
Both the neighbor and Manawat said they're open to attending a mediation and putting aside their differences. After the video went viral, Manawat took the rant down and posted an update on Facebook. 
"The video was put out and now what I was hoping for has happened," he wrote. "It has reached her. She is now aware of her wrongdoings."
"I don't believe violence or physical harm is the answer," he continued. "I say that because there were a lot of people actively looking for her. Instead of looking for her, we need to pray for her. Pray that God softens her heart."