Tilikum, SeaWorld's beloved and controversial whale, has died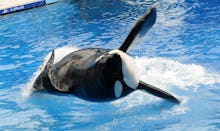 Tilikum, the orca whale that was the crown jewel of SeaWorld's aquatic attractions and the subject of the 2013 documentary Blackfish, died on Friday morning. He is estimated to have been 36 years old.
In a tribute posted to SeaWorld's website on Jan. 6, the Orlando, Florida, theme park described Tilikum as a "beloved member of the SeaWorld family" who was "surrounded by the trainers, care staff and veterinarians that provided him around-the-clock world-class care" when he died.
While the official cause of death has not yet been determined, the park said that Tilikum had been suffering from "very serious health issues," including a bacterial lung infection. 
Tilikum became the subject of controversy in 2010 after he violently killed his trainer, Dawn Brancheau, during a live aquatic show at SeaWorld. The incident inspired the creation of the documentary Blackfish, which relied on the testimony of former SeaWorld employees to bolster the argument that keeping killer whales in captivity is inhumane.
The film launched a petition on Change.org to release Tilikum from captivity and back into his natural environment, which garnered over 765,000 signatures online.
"Tilikum had, and will continue to have, a special place in the hearts of the SeaWorld family, as well as the millions of people all over the world that he inspired," Joel Manby, president and CEO of SeaWorld, said in a statement. "My heart goes out to our team who cared for him like family."
The park's statement also cited an independent scientific study, which claims that, at an estimated 36-years-old, Tilikum had lived a long life and was "near the high end of the average life expectancy for male killer whales."