6 hit songs that you didn't know Rihanna passed up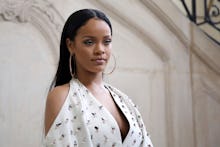 At 28 years old, Rihanna has all the sauce. She is part of music royalty, having surpassed Michael Jackson last year for the artist with the third-most number one hits on the Billboard Hot 100. The legendary Beatles and Mariah Carey now stand in front of her. With that success, many songwriters and producers have tried their hand at making their own hits for RiRi. Ed Sheeran is one. 
Friday, he revealed that his new single "Shape of You" was written with Rihanna in mind. 
"But then I was singing some of the lyrics and was like Rihanna is not going to sing these words so kept it to myself," he jokingly admitted on BBC Radio 1. 
Although Sheeran never shipped it off, there are other songs that she turned down and that her camp never got around to hearing. Yes she is queen at flipping tracks into high-charting treasures, but it doesn't mean the life of those rejected songs were over for good. Here are six massive hit songs that Rihanna missed out on.
Sia, "Cheap Thrills"
Sia found success in writing "Diamonds" for Rihanna, but the Barbadian star was going for a different sound on her latest album Anti, so she passed on "Cheap Thrills." But Sia loved the track she wrote so much she decided to go for it. 
"For some reason, I really liked listening to it which makes me feel masturbatory, but I wouldn't normally be just jamming out to my own tunes," Sia told Rolling Stone. 
Beyoncé, "Pretty Hurts"
Rihanna's team held onto "Pretty Hurts," — also penned by Sia — for eight months, but never paid to secure the track, Sia told the New York Times. 
"When Beyoncé heard it, she slid into home base and just closed the deal," Sia explained. 
Major Lazer & DJ Snake feat. MØ, "Lean On" 
Diplo, one third of the electronic production group Major Lazer, said Rihanna and Nicki Minaj both turned down "Lean On" after hearing the demos, but eventually it all worked out.
"[MØ] sounds better than anybody was going to sound on that record," Diplo told TimeE. "All we want to do is make the records feel like classics, even though they're feeling progressive and strange to a normal ear."
The Chainsmokers, "Don't Let Me Down"
The Chainsmokers didn't give up on "Don't Let Me Down" after Rihanna passed on the song. So they took a chance with Daya. Alex Pall didn't worry about the 18-year-old singer doing the song justice, "because young unknown artists have this hunger – they're willing to work really hard," he told Rolling Stone. 
Drake, "Find Your Love"
Producer Jeff Bhasker revealed Drake's "Find Your Love" was co-written with Kanye West, and that while Rihanna cut the original version of the song but she eventually let it go. 
"I'm not exactly sure [how Drake got it] but they were both managed by Gee Roberson who was probably the messenger for that song. For one reason or another it didn't make it to Rihanna's album, so Drake took it and made a smash out of it," Bhasker told Complex.
Miley Cyrus, "We Can't Stop" 
Producer Mike Will Made-It is responsible for Rihanna's hit "Pour It Up." But "We Can't Stop" was the song he originally had in mind for her.
"The idea was more towards Rihanna. And then Rihanna, she heard [her Unapologetic track] 'Pour It Up,' and then she got on 'Pour It Up' right away. And she didn't even hear 'We Can't Stop.' So then we finished up the record," Mike told MTV News.
He then offered the song to Miley Cyrus, who loved it, and the rest is history.