Sens. Cory Booker, Bernie Sanders introduce bill to block Donald Trump's Muslim registry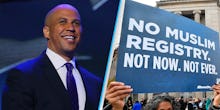 Democratic Sen. Cory Booker is introducing a bill that would prevent President-elect Donald Trump from creating a Muslim registry. The bill, according to the Washington Post, is sponsored by several key Democrat senators including Bernie Sanders, Elizabeth Warren and Jeff Merkley, to name a few. 
The legislation would prohibit federal government agencies from establishing any kind of "immigration-related" registry based on religion, race, age, gender, ethnicity, national origin, nationality or citizenship. The bill would block a program similar to the National Security Entry-Exit Registration System, a database built by Trump transition team member Kris Kobach in 2001 under the George W. Bush administration. 
On Dec. 22, President Obama dismantled the NSEERS program to prevent the incoming Trump administration from using it to track Muslim immigrants.
"Our legislation would block Donald Trump and subsequent administrations from infringing on religious liberty by creating an immigration-related religious registry," Booker told the Washington Post. "Forcing people to sign up for a registry based on their religion, race or national origin does nothing to keep America secure."
The bill will not impact the no-fly list, a list of citizens and non-citizens prohibited from boarding aircrafts which has been used as a tool to coerce Muslims into becoming FBI informants or punish political protesters. The proposed law will also not alter or prevent the Countering Violent Extremism initiative, a program to combat the use of the internet and social media to recruit individuals prone to radicalism. CVE has disproportionately incriminated Muslim communities. 
Hoda Hawa, the director of policy and advocacy at the Muslim Public Affairs Council, told Mic in a phone interview that Booker's bill is a good step forward to ensure registries discriminating against the basis of race or religion don't come to fruition. 
"[The bill is a] first good step and we look forward to working with Booker, Sanders, Warren and the rest of Congress to ensure these type of programs don't make it past rhetoric," Hawa said. "These are programs inherently used to target [our] community because of our faith and it has nothing to do with national security."
In a November 2015 interview with NBC, Trump said a Muslim database would be "good management." While the Trump campaign has denied the president-elect ever called for a Muslim registry, in November 2016, Kobach — initially considered for Secretary for Homeland Security — confirmed the Trump team was considering its implementation.