Could 'Deadpool' actually win best picture at the Golden Globes? Yes — and it should.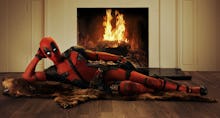 While the Academy Awards will likely never give up its crown as the show that gives out the top prizes in film each year, the program is not without criticism. One complaint is that the Oscars place too much emphasis on dramatic films that do not resonate with general audiences. The Golden Globes, on the other hand, do not shy away from high-grossing films: Just look at Deadpool, which is nominated for best picture and best actor, both in the musical or comedy category. 
The Ryan Reynolds-starring, R-rated comic book comedy about a foul-mouthed anti-hero has been somewhat of a sensation. The film became the all-time highest grossing R-rated movie at the worldwide box office with over $783 million — without even being released in China, which banned the film. Reynolds recently told Variety of the film being banned in the second largest film market, "We were rated 'fuck you!'" With a release in China, Deadpool could have become the first $1 billion grossing R-rated film.
At the Golden Globe Awards on Sunday, Deadpool will be going up against strong competition in the musical or comedy category. Other best picture nominees include 20th Century Women, Florence Foster Jenkins, La La Land and Sing Street. Each of the nominated films have an 84% or higher on Rotten Tomatoes, with Deadpool having the lowest rating. But could Deadpool beat them all anyway?
While many believe La La Land is the front-runner to win best picture at the Academy Awards, do not be shocked if it misses out on that award at the Globes. Since 2000, only two films have won both the Academy Award for best picture and the same at the Golden Globes in the musical or comedy category. This is likely because the Oscars favor the dramatic offerings. It also, however, could be because the Hollywood Foreign Press Association is willing to use the musical or comedy category to shine a light on other deserving films. 
Past musical or comedy films to win best picture at the Golden Globes include movies like Almost Famous, The Hangover, Dreamgirls and Sweeney Todd: The Demon Barber of Fleet Street. Don't get this wrong, these were all great films. But none of them were nominated for best picture at the Academy Awards, and some beat films that were. 
So, though La La Land is likely a shoe-in to receive a best picture nomination at the Oscars, it could very well lose out at the Golden Globes to a film that may not even get nominated at the former, like, say, Deadpool. Just to note, this author thinks Deadpool absolutely should get a nomination. Plus, Reynolds has said on Twitter we will get a "ridiculous reaction video" if it happens. That's reason enough.
Deadpool should win best picture at the Golden Globes.
While all the nominated films are tremendous cinematic achievements, Deadpool is a film that has transcended genres and shattered what we thought we knew about comic book adaptations. Also, it was really, really good. Deadpool was a passion project. If we did not know this before the film was released, you could tell from watching. Reynolds was born to play Wade Wilson, and Tim Miller was the perfect man to helm the project. 
The film was action-packed, hilarious, touching, gruesome and pretty much everything in-between. At its heart, though, it was a love story, a tale of a man who would do anything — including running over someone with a Zamboni — to be with the woman of his dreams.
It was Deadpool's ability to capture the essence of multiple genres that should lead it to a win at the Golden Globes. While La La Land may be a great original musical and 20th Century Women does feature one of Annette Bening's greatest performances, somehow, it feels like we have seen similar movies. There has been nothing like Deadpool. 
Not only was Deadpool a great film in its own right, but it could change comic book adaptations going forward. And isn't that what we want? The continued evolution of various genres? To see something entirely new? 
The film's success no doubt in part led to Fox green-lighting Logan, an R-rated swan song for Hugh Jackman's Wolverine franchise. That film is already garnering significant buzz. We should reward films that shatter the mold and lead to further innovation. 
The Hollywood Foreign Press Association's mission statement includes: 
"To recognize outstanding achievements by conferring annual Awards of Merit, (Golden Globe® Awards), serving as a constant incentive within the entertainment industry, both domestic and foreign, and to focus wide public attention upon the best in motion pictures and television..."
The most important part of that quote? The Golden Globe Awards serve as "a constant incentive within the entertainment industry." Do we not want to incentivize further cinematic risks like the one Fox took with Deadpool? 
While the film's financial success will talk loudest, a win at the Golden Globes will continue to highlight cinematic achievement outside of the traditional dramatic films rewarded by the Academy Awards. 
The Golden Globes will air at 8 p.m. Eastern on Sunday on NBC.